Tombstone Halloween Sandwiches Recipe
Prep Time: 20 min | Cook Time: 0 min | Servings: 4 | Calories: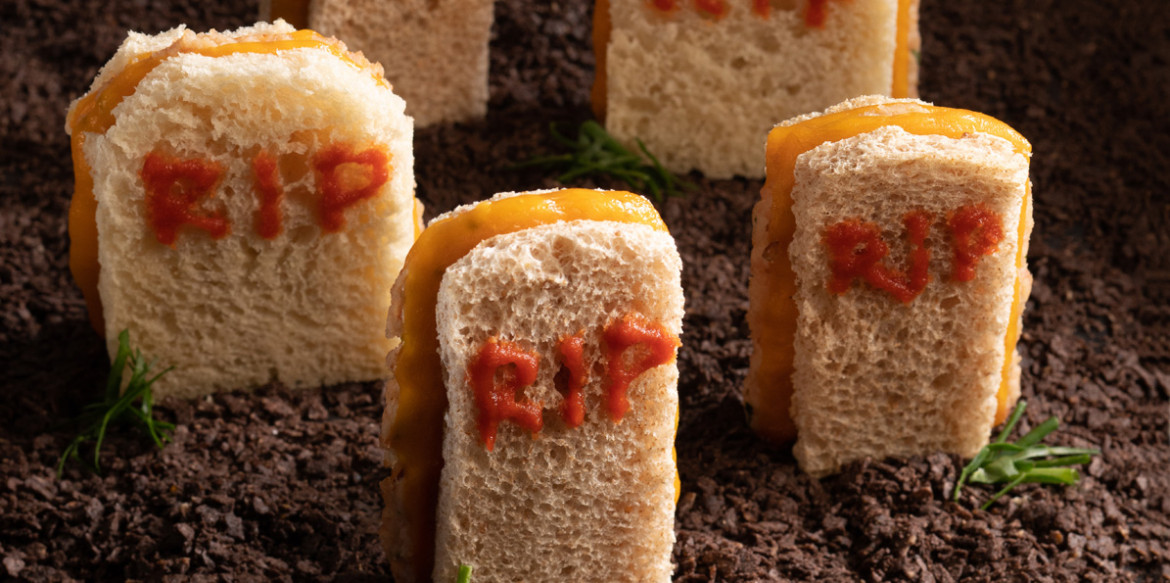 ---
If you love Halloween and an annual party is a given at your house, you need to add these little sandwiches to your menu. The "tombstones" are filled with a yummy ham salad paired with Sargento® Mild Cheddar Cheese. Rye chip crumbs create the dirt and ketchup spells out RIP.
Ingredients
8 ozs. Thinly sliced deli ham
8 ozs. Thinly sliced deli turkey
1/4 cup Crumbled bacon
1/2 cup Mayonnaise
1 tsp. Brown mustard
1 small Gerkin pickle
2 Tbsp. Chives, chopped
16 slices English muffin sandwich bread
1/2 cup Ketchup or hot sauce
Directions
In a food processor bowl, add deli ham and next 6 ingredients. Pulse until finely ground and thick. Spoon mixture into a 1 quart re-sealable plastic bag. Cut off the tip from one bottom corner and squeeze salad mixture towards the hole.
Layout 8 bread slices on a large baking sheet. Pipe mixture onto bread slices in the shape of a tombstone, leaving edges unfilled to allow for a narrow tombstone shape. Top each with 1 slice of Sargento® Mild Cheddar Cheese. Place remaining slices of bread over cheese. Cover pan of sandwiches with plastic wrap. Refrigerate for 1 hour.
Remove sandwiches from refrigerator and unwrap. Place 1 sandwich at a time onto a cutting board and cut off sides and bottom of bread to create a clean-cut edge, making the sandwich resemble a tombstone. Discard cut sides and bottom of of sandwiches.
Spoon ketchup or hot sauce into a 1 quart re-sealable plastic bag. Cut a small tip off one end and squeeze ketchup toward the opening.
Write the letters RIP in ketchup onto the top of the sandwiches. Carefully transfer sandwiches to a platter topped with rye chip crumbs. Serve.
---