Mozzarella Rice Balls Recipe
Prep Time: 30 min | Cook Time: 2 min | Servings: 24 | Calories: 95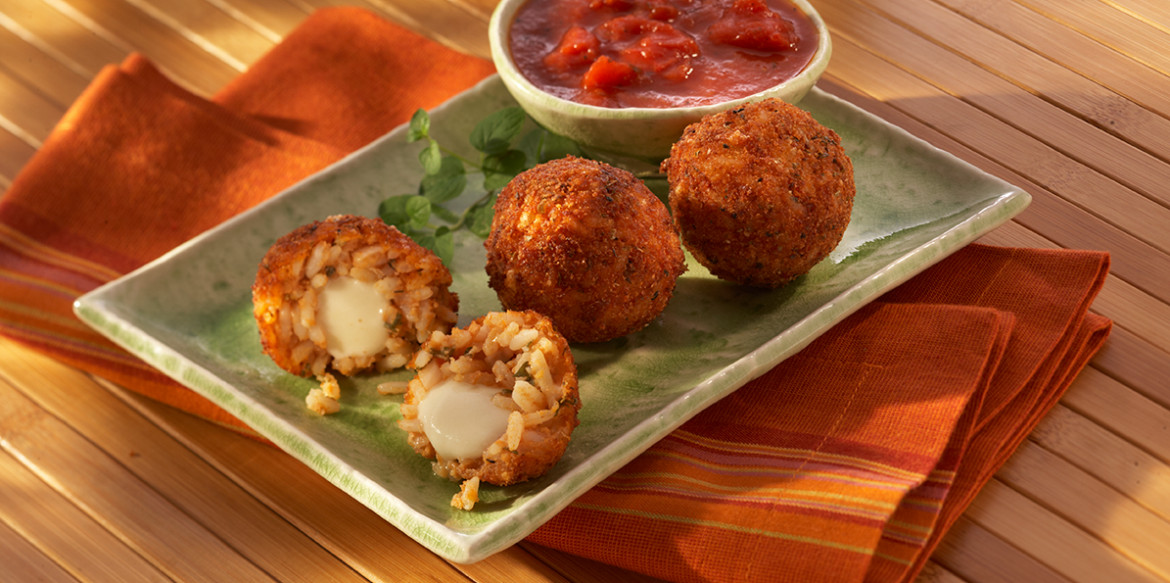 ---
These cheesy rice balls are a staple of Italian cuisine and are filled with rustic flavors from a melted core of Sargento® Natural String Cheese Snacks to an exterior of Italian breadcrumbs, long grain rice, tomato sauce and seasonings. The bite-size appetizers are great with a ranch or marinara dipping sauce.
Ingredients
1 cup uncooked long-grain white rice
2 eggs, beaten
1 onion, chopped small
1 can (8 oz.) tomato sauce
1 Tbsp. dried parsley
2 tsps. garlic powder
1 cup Italian seasoned breadcrumbs, divided
Marinara sauce or Ranch salad dressing for dipping, optional
Directions
Cook rice according to package directions; cool. Combine with eggs, onion, tomato sauce, parsley, garlic powder, Parmesan and 1/2 cup breadcrumbs.
Spoon about 1-1/2 Tbsp. rice mixture into the palm of your hand and flatten out slightly. Place 1 String cheese piece into the center and wrap the rice mixture around it to enclose it completely. Roll into a ball and into seasoned breadcrumbs to coat. Continue until all rice mixture/cheese pieces are used.
Heat deep fryer or large pot filled with oil to 350°F. Fry rice balls, a few at a time, until golden brown, about 2-3 minutes. Drain on paper towel-lined plate.
Serve immediately with a side of marinara sauce or Ranch dressing for dipping.
---