Halloween Mini Pizzas Recipe
Prep Time: 20 min | Cook Time: 10 min | Servings: 4 | Calories: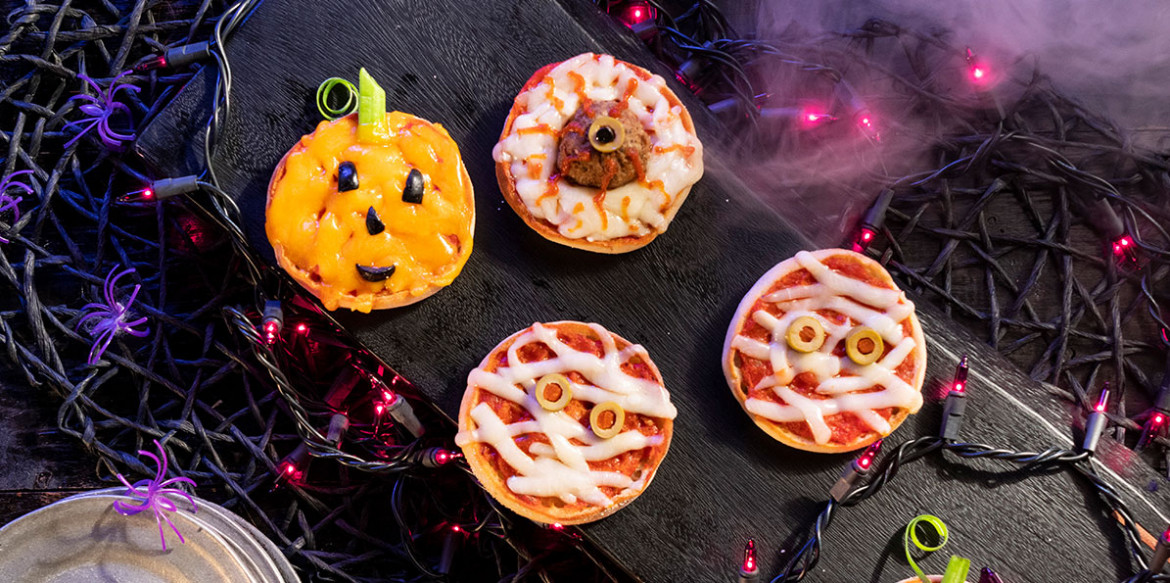 ---
These cheesy mini pizzas are the perfect Halloween snack for the kids. Whip up this delicious Halloween treat in no time using Sargento® Shredded Cheese!
Ingredients
4 ea. Whole grain English muffins, split
1/2 cup Prepared pizza sauce
2 cups Sargento® Mozzarella or Cheddar Cheese
Optional: Assorted pizza decorations(black olives, green olives, mini pepperoni, mini meatballs, etc..)
Directions
Lightly toast muffin halves, then place on a large baking sheet. Spread about 1 tablespoon of sauce on the cut side of each muffin half.
To make mummy muffin pizzas, place long cheese shreds in crisscross over pizza sauce to resemble bandages, then bake. After baking, use black olive slices to make the mouth and eyes.
To make spider muffin pizzas, place shreds in circle shapes to resemble a web, then bake. After baking, place black olive halves and strips to resemble legs.
To make Jack o'lantern muffin pizzas, sprinkle a generous amount of shredded cheddar over sauce, then bake. After baking, place mini pepperoni for eyes and a mouth, or use green olive slices for eyes.
To make eyeball muffin pizzas, place strips of mozzarella in a football shape over sauce. Place 1 mini meatball half over cheese, then bake. After baking, place a slice of pimento stuffed green olive in the center of the meatball to resemble the pupil of an eye.
---