Alligator Sandwich
Prep Time: 10 MIN | Cook Time: | Servings: 4 | Calories: 730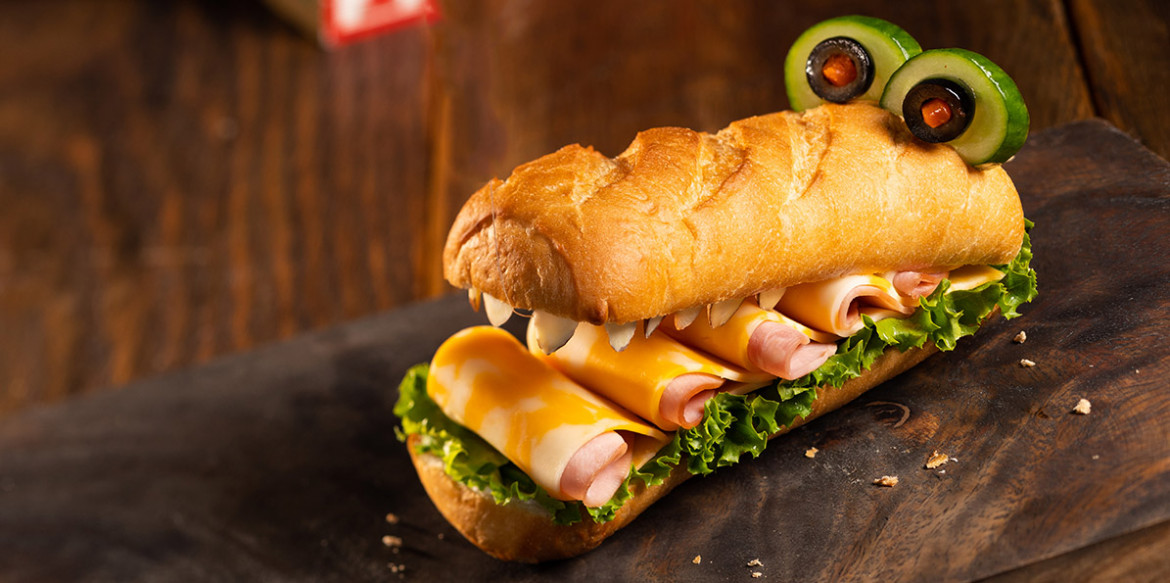 ---
Ask the kids if they want an alligator sandwich and watch their eyes grow big. Then serve up this delightful sandwich. Perfect for birthday parties or sleepovers, this easy-to-make hoagie features slices of Sargento® Colby-Jack cheese, always the perfect pairing for honey ham.
Ingredients
2 Club or hoagie rolls, split
2 Tbsp. Mayonnaise
2 leaves Leaf lettuce, torn into small pieces
10 slices Deli honey ham
28 ea. sliced almonds
4 ea. Seedless cucumber slices
2 ea. Black olives
4 ea. Pimento pieces
8 ea. Toothpicks
Directions
Spread mayo on top and bottom halves of buns.
Place leaf lettuce on bottom bun. lay cheese slice halves on a clean flat surface. Place ham slices on top of cheese. Fold over, then place 5 folded combo slices slightly overlapping on top of lettuce.
Stick almond slices into the cut side of top bun to resemble teeth. Place bun top over ham and cheese slices. Place pimento pieces in each olive. Pick olives into back half of bun. Cut cucumbers to fit behind olives. The cucumber olive combination should resemble the eyes of the alligator. Serve as an after school snack.
---