Fresh Asiago Hasselback Chicken Recipe
Prep Time: 30 Min | Cook Time: 30 Min | Servings: | Calories: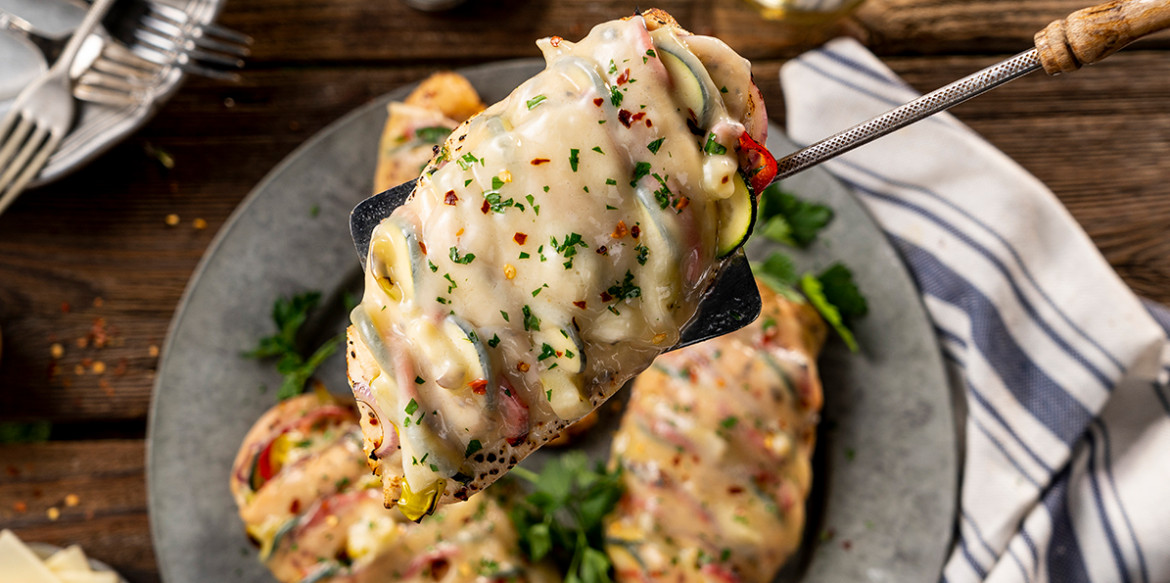 ---
These colorful, full flavored chicken breasts are drizzled with olive oil, seasoned with crushed red pepper flakes, then stuffed with pepperoncini, zucchini, red onion and small pepper slices and grilled. We save the best for last by adding Reserve Series™ Fresh Asiago Slices over the top.
Ingredients
4 large Boneless, skinless chicken breast halves
2 Tsp. Olive oil
1 Tsp. Crushed red pepper flakes
1/2 cup Pepperoncini peppers, cut into rings
1 small Zucchini, cut into thin slices
6 slices Red onion, separated into rings
4 small Sweet red peppers, cut into rings
8 slices Reserve Series™ Fresh Asiago
Salt and pepper to taste
Directions
Pre-heat grill or oven to 350 degrees.  Using a sharp knife, cut 5-6 slits crosswise into the chicken but not through it making small pockets.
Place chicken on a foil lined baking sheet. Drizzle chicken with olive oil and rub the oil into the chicken.  Sprinkle the red pepper flakes over each chicken breast.  Season with salt and pepper.
In each slit you cut into the chicken, place a couple slices of pepperoncini, 2 halved slices of zucchini, 2 halved rings of onion and 2 rings of sweet red pepper. Repeat with remaining chicken breasts.
Using both hands, carefully transfer each stuffed breast to the grill over indirect heat. Cover the grill and cook for 15-20 minutes or until chicken is almost cooked through or about 140 degrees.
Place 2 slices of cheese over each breast. Cover grill again and cook an additional 10 minutes or until cheese has melted and chicken is 165 degrees.  Transfer chicken to a serving plate, sprinkle with chopped parsley if desired and serve.
---