Cheddar Breakfast Strata
Prep Time: 25 min | Cook Time: 40 min | Servings: 8 | Calories: 341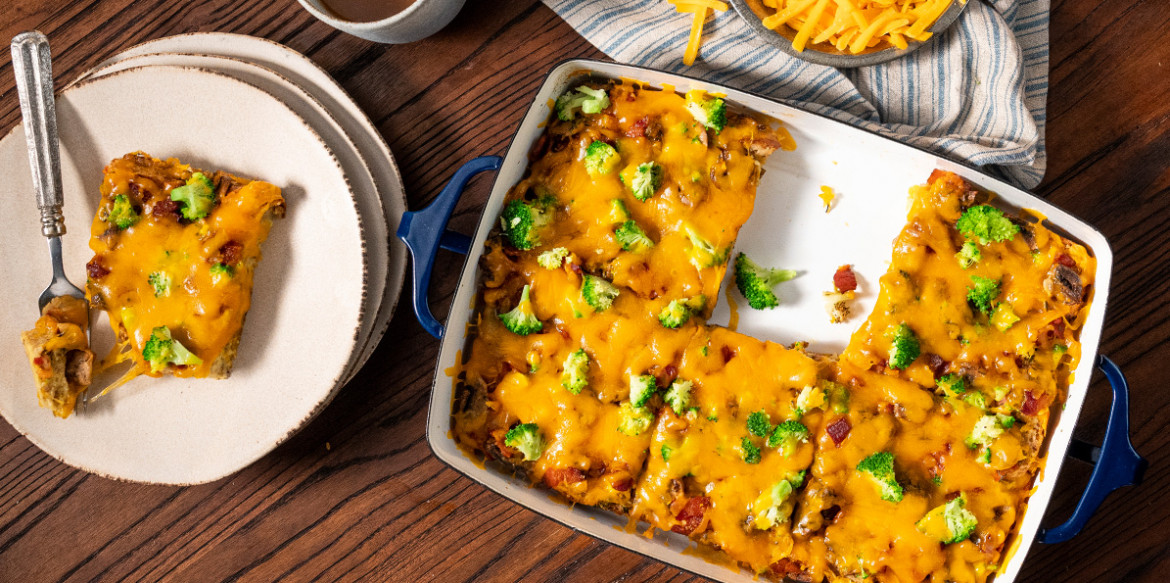 ---
This simple recipe brings everything you could want to your breakfast table: crispy bacon, hearty mushrooms, tender broccoli and fluffy eggs. The secret? A touch of sweet tang from Worcestershire sauce and plenty of Sargento® Shredded Swiss Cheese for a classic taste everyone will love.
Ingredients
6 slices whole wheat bread
1/2 lb. bacon, cut into 1-inch pieces
8 oz. fresh mushrooms, sliced
1 cup chopped broccoli florets
1 tsp. dried thyme leaves
4 eggs
2 cups milk
2 tsp. Worcestershire sauce
Directions
Arrange bread in bottom of lightly greased 13x9-inch baking dish. Cook bacon in skillet over medium heat until browned; drain on paper towel. Place evenly on bread.
Cook mushrooms 3 minutes on medium heat in same skillet; drain. Layer mushrooms over bacon. Scatter broccoli over bacon and sprinkle with thyme.
Combine eggs, milk and Worcestershire sauce in medium bowl. Pour evenly over broccoli. Sprinkle Cheddar and Swiss cheeses over all. Bake in preheated 350°F oven 40 minutes or until puffed and golden brown.
---