Snowman Cheeseball Recipe
Prep Time: 15 Min | Cook Time: | Servings: | Calories: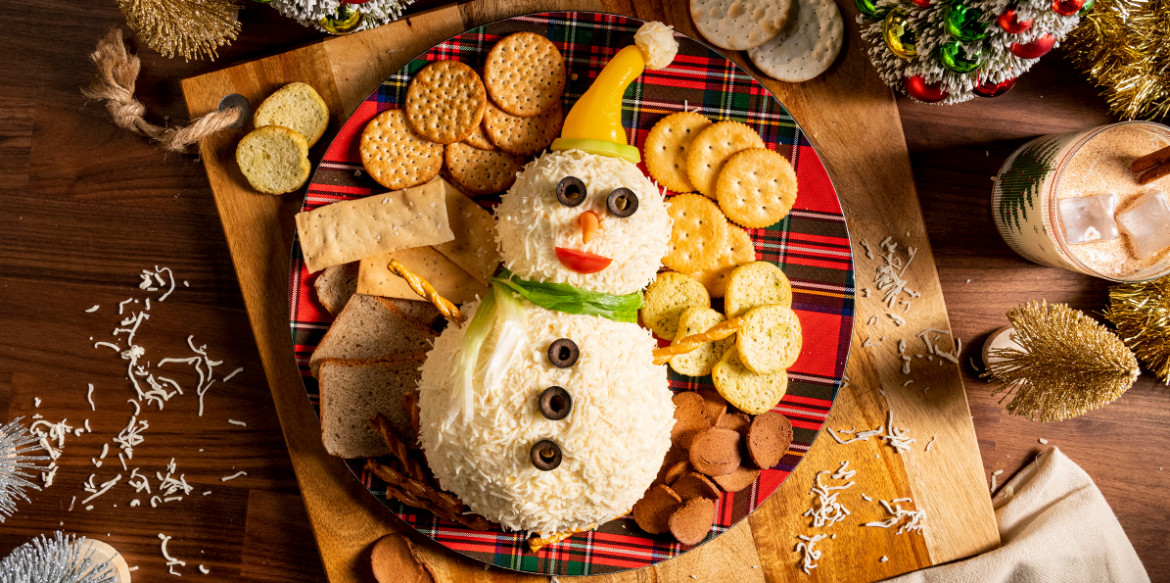 ---
Bacon, pimento, green onion, toasted walnuts and Sargento® Monterey Jack cheese come together to create this delicious cheese ball.
Ingredients
16 oz. Cream Cheese
2 tsp. Worcestershire Sauce
1 tsp. Garlic Powder
1 tsp. Hot Sauce
1/2 cup Diced pimentos, drained
1/2 cup Crumbled bacon
1/2 Green onion, chopped
1/2 cup Chopped walnuts, toasted
Directions
In a large mixing bowl, combine cream cheese and next 3 ingredients. Blend on low for 1 minute. Increase speed to medium and beat for 2-3 minutes or until light and fluffy.
Gradually add cheese ½ cup at a time, blending between each addition until all but 1 cup of cheese is added. Add remaining ingredients. Blend on medium speed until well blended.
Separate mixture into two balls and spoon mixtures into 2 piles on a large pieces of plastic wrap. Wrap plastic around cheese and form into a ball. Refrigerate for 8 hours or overnight.
Unwrap cheese balls and place in the center of a serving plate to form snowman shape. Cover cheeseballs with remaining cups of cheese. Get creative and use veggies to give the snowman features.
To Serve: Add assorted crackers or vegetables around cheese ball and serve.
---