Chorizo & Roasted Poblano Cheese Empanadas Recipe
Prep Time: 20 min | Cook Time: 20 min | Servings: 6 | Calories: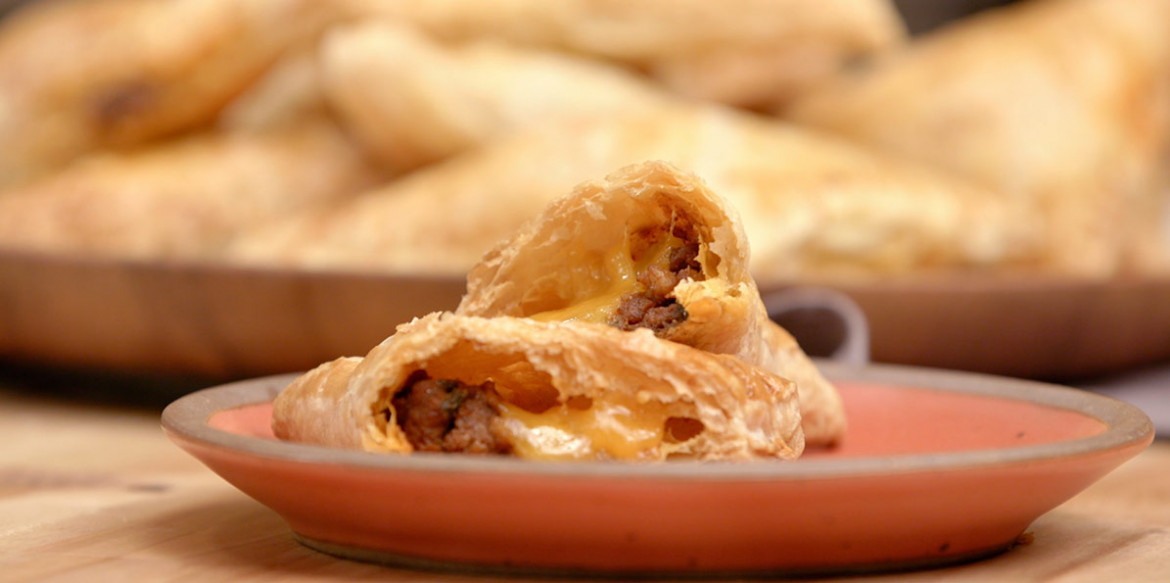 ---
Spicy chorizo meets sweet, smoky poblano in these queso fundido-inspired flaky hand pies. Sargento® Reserve Series™18 Month Aged Cheddar makes these 5-ingredient empanadas incredibly rich with just the right level of tangy deliciousness for the most irresistible bites.
Ingredients
½ lb fresh Mexican chorizo, casing removed
2-3 poblano peppers
2 sheets frozen puff pastry, thawed
Egg wash (1 egg + 2 tbsp water)
Directions
Over an open flame, in a pan, or under the broiler, roast the poblano peppers until the skin is blackened on all sides. Then place the blackened peppers in a brown paper bag and seal for a few minutes. Once the peppers are cool enough to handle, peel off the loosened skins and remove the stem and seeds. Chop into small pieces and set aside.
In a pan on medium heat, cook the chorizo, while breaking it up, until browned. Combine with the poblano peppers and set aside to cool.
Preheat oven to 400F. Roll out each puff pastry sheet into a 12x12 inch square. Cut to divide into 18 pieces (9 per sheet).
In the center of each square, place some cheese, and then a little less than 1 tablespoon of the filling, followed by some more cheese on top.
Lightly brush the edges with some egg wash and fold the dough over to form a triangle. Crimp and seal the edges well with a fork, poke the surface once with the fork, and then brush the surfaces with egg wash.
Bake for 20-25 minutes or until golden brown. Serve with hot sauce or salsa of your choice!
---