Tomato Soup AuGratin with Grilled Cheese Recipe
Prep Time: 15 | Cook Time: 20 | Servings: | Calories: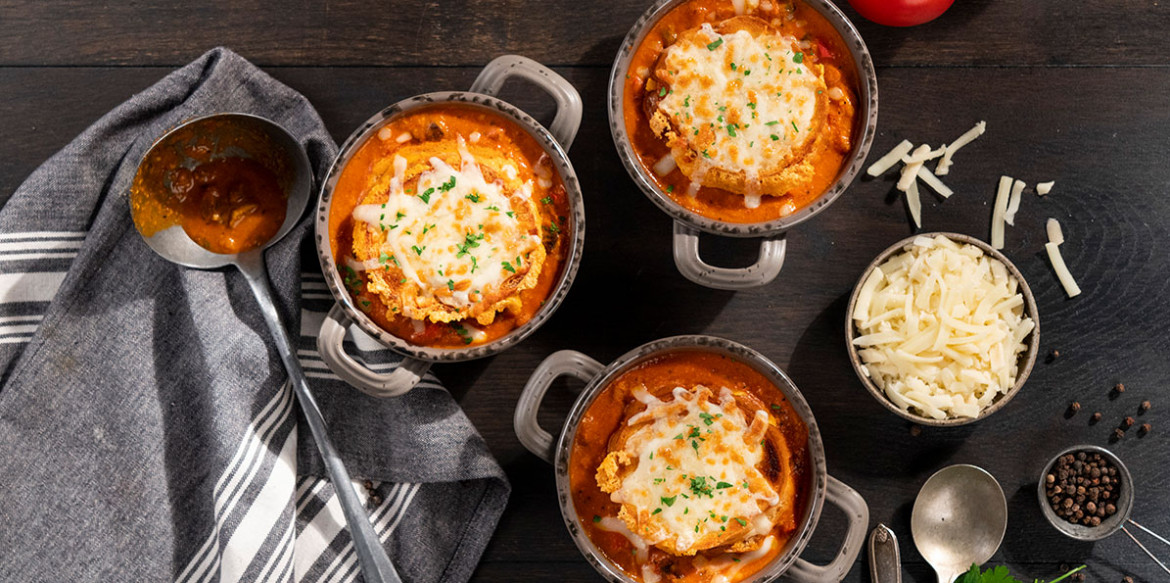 ---
There is no better combination than a grilled cheese sandwich paired with tomato soup. Until now that is. This version combines a hearty mushroom, pepper and onion tomato soup with Sargento® Reserve Series™ 18-Month Aged Cheddar grilled cheese. Yes please!
Ingredients
SOUP:
1 Tbsp. Olive oil
1 Tbsp. Butter
2 cups Chopped fresh mushrooms, chopped(button, crimini, oyster or shiitake)
1 cup Sweet red bell pepper, chopped
1 cup Sweet green bell pepper, chopped
1 cup Yellow onion, chopped
24 ozs. Prepared vodka sauce
1 ½ cups Reduced sodium chicken broth
GRILLED CHEESE:
8 thin slices French bread
2 Tbsp. Butter, softened
Directions
Pre-heat a large saucepan over medium-low heat. Add olive oil and butter, then add mushrooms, peppers and onions. Cook over medium heat for 4-6 minutes or until vegetables are softened, stirring occasionally.
Add vodka sauce and chicken broth. Stir well with a spoon. Simmer on low for about 10 minutes or until hot. Stir in 1 cup of Aged Italian Blend Cheese until melted. Keep warm.
While soup is cooking, prepare grilled cheese toppers by pre-heating a large non-stick pan or griddle over medium-low heat.
Butter 1 side of each slice of french bread. Carefully place 6 slices buttered side down into the hot skillet.
Sprinkle a heaping ¼ cup of shredded cheddar over each slice of bread. Place remaining bread slices buttered side up on top of cheese. Press down with the back of a spatula to flatten slightly. Grill for 2-3 minutes or until golden brown. Flip sandwiches and grill an additional 2-3 minutes or until golden brown. Transfer sandwiches to a cutting board and cut each one in half.
Pre-heat oven to broil. Ladle soup evenly into 4 large bowls. Place 3 grilled cheese halves on top of each bowl of soup. Sprinkle cheese over sandwich halves. Place soup bowls on a large baking sheet. Broil until cheese is melted and lightly browned. Remove from oven and serve.
---