Air Fryer Pizza Recipe
Prep Time: 5 Min | Cook Time: 5 Min | Servings: 8 | Calories: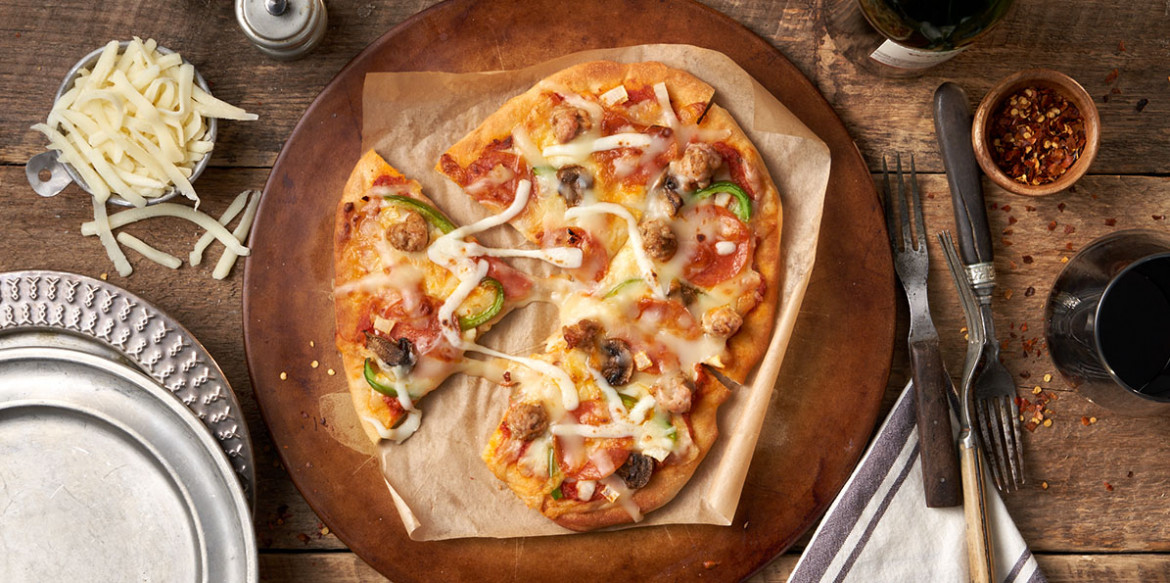 ---
This simple air fryer pizza is perfect for the whole family. Refrigerated pizza dough is cut in half, par-baked in an air fryer, then topped with lots of Sargento® Shredded Mozzarella and your favorite toppings, then air fried until golden brown.
Ingredients
1 pkg. (13.8 oz.) Classic pizza dough, cut in half
1 tsp. Olive oil
1/4 cup Pizza sauce
2 cups Sargento® Shredded Mozzarella, divided
1/4 cup Italian sausage crumbles, cooked
6 slices Pepperoni, quartered
3 ea. Small button mushrooms, sliced
1/4 cup Diced onion
1/4 cup Diced green bell pepper
Directions
Cut 2 pieces of parchment paper to fit the inside of your air fryer.  Stretch each half of pizza dough over the pieces of parchment.  Brush both lightly with olive oil.
Lower one dough into the air fryer basket.  Turn air fryer to 400 degrees and cook for 3 minutes or until lightly browned.
Flip dough with a pair of tongs, brush with oil and air fry an additional 2 minutes.  Remove pizza crust and parchment paper and let cool.  Repeat par-baking crust with remaining pizza dough. Let cool.
Spoon 2 tablespoons of sauce onto each par-baked crust and spread with the back of the spoon.
Sprinkle 3/4 cup of cheese over both pizzas.
Top each with remaining ingredients.  Finish each with remaining ¼ cup of cheese. Carefully place one topped pizza in the air fryer basket by using the parchment paper to lower it into the basket.  Cook for 4-5 minutes at 330 degrees or until top is golden brown and ingredients are cooked through. Remove pizza with tongs or a spatula and serve.
---