Southwestern Scallops
Prep Time: 10 min | Cook Time: 30 min | Servings: 4 | Calories: 396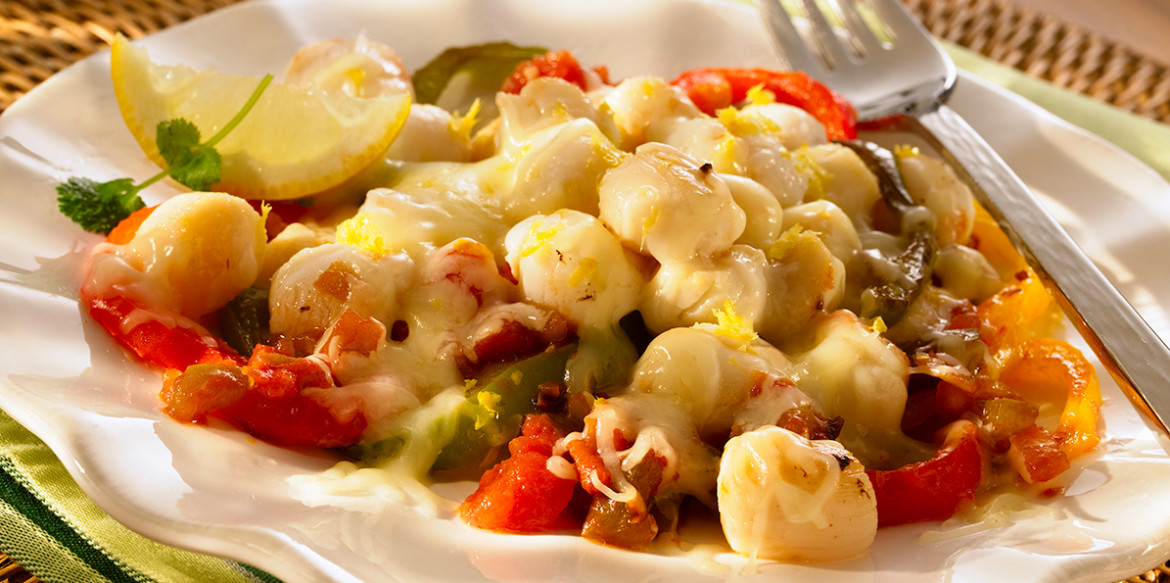 ---
Prepare this delightful seafood dish using bay scallops and baking them among a bed of roasted red, yellow and green bell pepper rings mixed with onion and minced garlic topped with a chunky salsa. The crowning touch: a topping of Sargento® Shredded Monterey Jack Cheese and a dash of grated lemon rind.
Ingredients
1 each red, yellow and green bell pepper, cut into thin rings
1/4 cup olive oil
2 cloves garlic, minced
1 cup chunky-style salsa
1 lb. bay scallops, rinsed and drained
1 Tbsp. grated lemon rind
Lemon slices and fresh cilantro sprigs, for garnish
Directions
Layer pepper rings in 13x9-inch baking dish. Combine olive oil and garlic; drizzle over pepper rings. Bake in preheated 400°F oven 20 minutes.
Remove from oven; stir salsa into pepper rings. Top with scallops; sprinkle with lemon rind and cheese. Return to oven; bake 10 minutes or until scallops are opaque and cheese is golden brown around edges. Garnish with lemon slices and cilantro sprigs.
---