Chicken Divan Pie
Prep Time: 45 min | Cook Time: 18 min | Servings: 6 | Calories: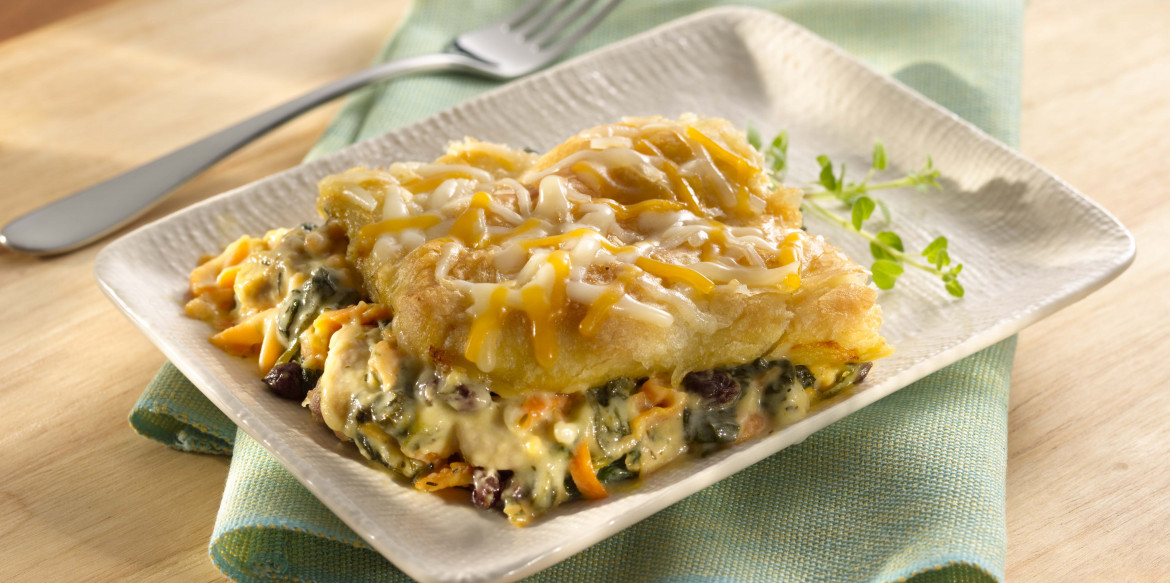 ---
This delicious twist on the classic creamy casserole uses spinach rather than the usual broccoli, adds grated carrots and dried currants and puff pastry to create a pie. Sargento® 4 State Cheddar Cheese adds the cheesy goodness that makes this dish memorable.
Ingredients
3 Tbsp. butter, divided
1/4 cup all-purpose flour
1-1/2 cups milk or reduced sodium chicken broth
3 Tbsp. dry sherry
1 to 1-1/4 lb. boneless, skinless chicken thighs, cut into 3/4-inch chunks
1 tsp. dried thyme leaves
1/2 tsp. salt
1/4 tsp. freshly ground black pepper
1 bag (6 oz.) baby spinach leaves (4 cups)
2 large carrots, grated
1/4 cup dried currants
1 sheet frozen puff pastry, thawed (1/2 of a 17.3oz. package)
Directions
Melt 2 tablespoons butter in a medium saucepan over medium heat. Add flour; cook 1 minute, whisking constantly. Stir in milk; bring to a simmer, whisking frequently. Simmer until sauce thickens, 2 to 3 minutes. Stir in sherry; simmer 2 minutes. Remove from heat; stir in 1 cup cheese until cheese melts.
Heat remaining 1 tablespoon butter in a large deep skillet over medium heat. Add chicken; sauté 3 minutes. Add thyme, salt and pepper; sauté 3 minutes or just until chicken is no longer pink. (Chicken will continue cooking during baking time.) Stir in spinach, carrots and currants; sauté just until spinach is wilted, 1 to 2 minutes. Remove from heat; stir in cheese sauce, mixing well. Transfer mixture to an 11x7-inch baking dish. Sprinkle 1/2 cup cheese over mixture. Place dish on a rimmed baking sheet to catch any juices while baking.
Unfold puff pastry sheet onto a lightly floured surface. Roll out to 11x8-inch rectangle. Place pastry over chicken mixture, turning edges under to fit dish. Bake in a preheated 400°F oven 16 to 18 minutes or until pastry is golden brown. Sprinkle remaining 1/2 cup cheese over pastry; let stand 8 minutes or until cheese is melted. Cut pastry into 6 squares with serrated knife. Use a large spoon to dish out each serving.
---