Three Meat, Cheese and Slaw Subs Recipe
Prep Time: 20 min | Cook Time: | Servings: 4 | Calories: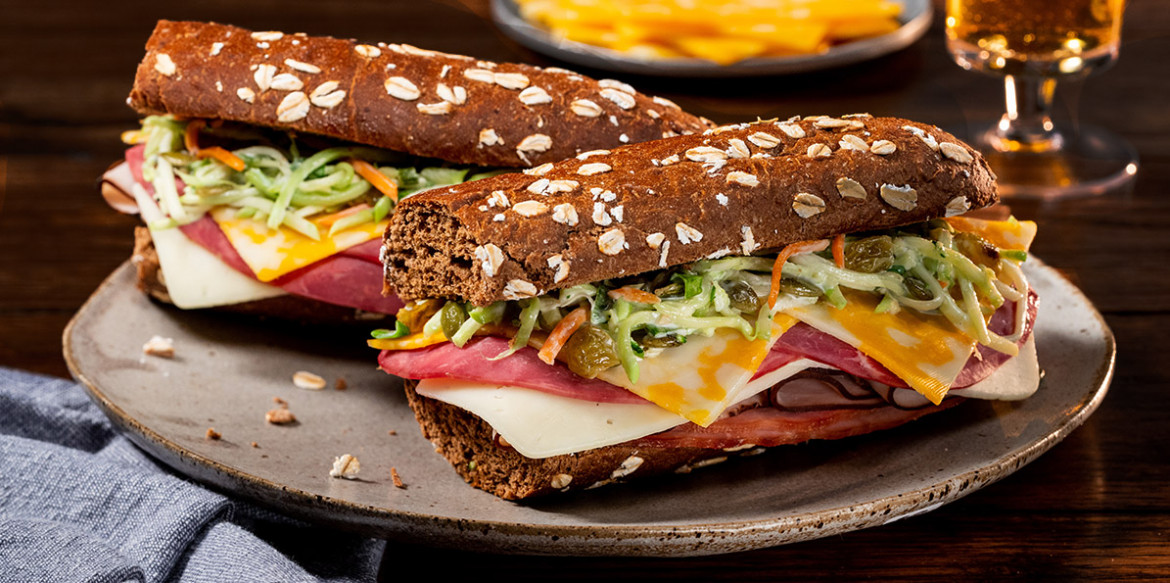 ---
Creamy broccoli slaw with nutty pepitas & plump golden raisins is a perfect addition to a deli meat and cheese sub. The subs can be prepared ahead of time with the slaw added just before serving.
Ingredients
1 ea. Long baguette, cut into quarters (or 4 small baguettes)
2 tsp Dijon mustard
8 slices Deli roast turkey
8 slices Deli corned beef, pastrami or roast beef
8 slices Smoked ham
BROCCOLI SLAW:
1/3 cup Mayonnaise
2 Tbsp White wine vinegar
1 Tbsp Honey
2 Tbsp Dijon mustard
1 pinch Salt and freshly ground pepper
3 cups Broccoli slaw
1/4 cup Thinly sliced green onions
1/4 cup Golden raisins
1/4 cup Pumpkin seeds
Directions
For Slaw: Whisk mayo, vinegar, honey, 2 teaspoons mustard, salt and pepper together in a medium bowl. Add the remaining slaw ingredients and stir to combine.
Spread inside each baguette with mustard. Add turkey, Colby Jack Cheese, beef, Havarti and ham in order given; top with slaw & wrap in parchment or plastic wrap. Serve any extra slaw on the side.
---