Spicy Quesadillas Recipe
Prep Time: 8 min | Cook Time: 10 min | Servings: 4 | Calories: 427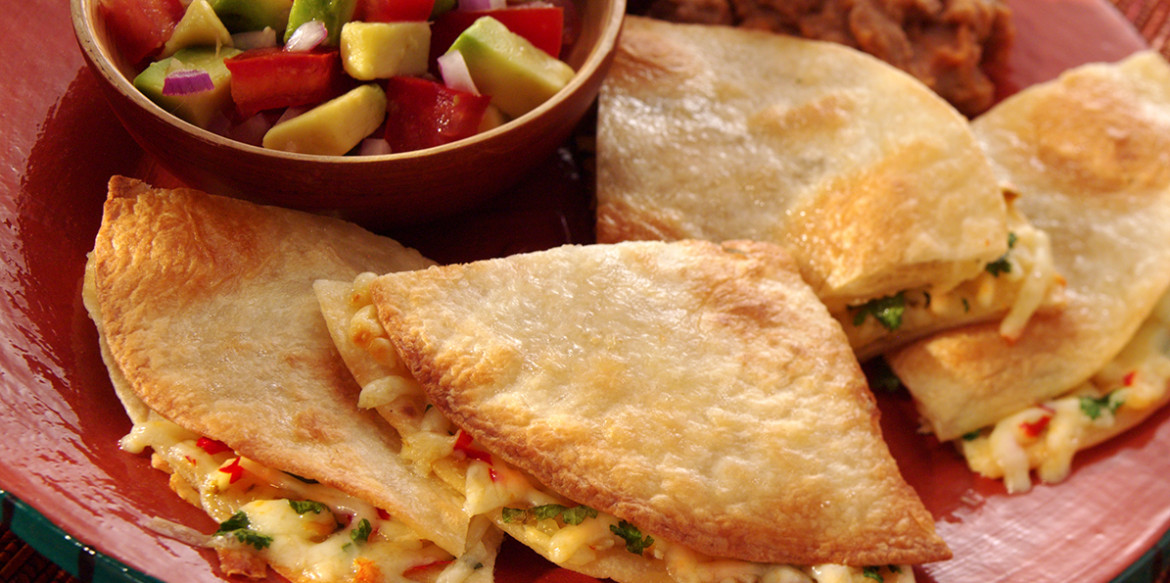 ---
Adding a spicy kick to your quesadillas can be refreshing, especially when they're made with melted Sargento® Shredded Pepper Jack Cheese, chopped tomato, red onion and ripe avocado. Chipotle hot sauce is what creates that Mexican-inspired taste you're looking for in this meal.
Ingredients
8 (6-inch) flour tortillas
3/4 cup chopped cilantro, divided
1 ripe avocado, peeled, seeded, diced
1/2 cup chopped tomato
2 Tbsp. minced red onion
1 Tbsp. fresh lime juice
1/4 tsp. salt
1 tsp. chipotle hot sauce or hot pepper sauce, or more to taste
Directions
Place 4 tortillas on a foil-lined baking sheet. Coat tortillas with cooking spray or brush lightly with oil. Turn tortillas over.
Spread cheese evenly over tortillas; top with 1/2 cup cilantro and remaining tortillas, pressing gently. Coat tops of tortillas with cooking spray or brush lightly with oil.
Bake in a preheated 450°F oven 5 minutes. With a large spatula, turn quesadillas over. Continue baking 4 to 5 minutes or until golden brown and cheese is melted.
Meanwhile, in a small bowl make pico de gallo by combining avocado, 1/4 cup cilantro and remaining ingredients; mix well. Cut quesadillas into quarters for a main dish or eighths for an appetizer. Serve with avocado pico de gallo.
---