Sharp Cheddar & BBQ Chicken Skillet Recipe
Prep Time: 5 Min | Cook Time: 25 Min | Servings: | Calories: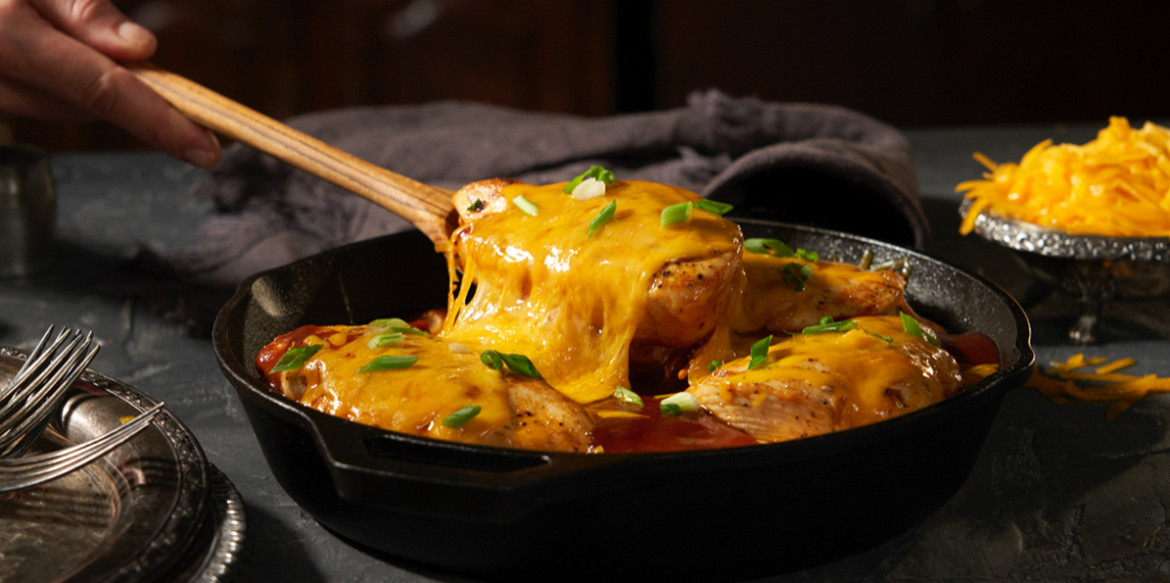 ---
This super simple one pan dish is the perfect meal for those days when you just want an easy, but delicious meal. Boneless, skinless chicken breasts are cooked in a large skillet, then chicken broth, polenta and Sargento® Extra Sharp Cheddar are simmered until thick, topped with barbecue sauce, more cheese and chopped green onion.
Ingredients
4 med. Boneless, skinless chicken breasts
½ tsp. Seasoned salt
¼ tsp. Pepper
1 Tbsp. Butter
3 cups Reduced sodium chicken broth
1 cup Quick cooking polenta
½ cup Prepared barbecue sauce
2 ea. Green onions, thinly sliced
Directions
Pre-heat a large, heavy bottomed skillet over medium heat. Season chicken breasts with seasoning.
Add chicken breasts to pan. Cook for 5-6 minutes or until golden brown.
Flip chicken with tongs, cover pan and cook an additional 5-6 minutes or until chicken is cooked through. Transfer chicken to a plate and let rest while preparing polenta.
Add chicken broth to pan and scrape bottom with a flat spatula to remove brown bits from pan. Stir in polenta and cheese. Simmer for 10 minutes, stirring often until polenta is thick and creamy.
Transfer cooked chicken back to pan over polenta. Spoon sauce over chicken and polenta. Sprinkle cheese over sauce. Cover pan and cook for 1-2 minutes or until cheese has melted. Sprinkle green onions on top and serve.
Note: If quick cooking polenta is not available, substitute yellow cornmeal and reduce amount to 3/4 cup. Cook polenta for 15-20 minutes instead of 10.
---