Mini Beef Volcanos
Prep Time: | Cook Time: | Servings: 4 | Calories: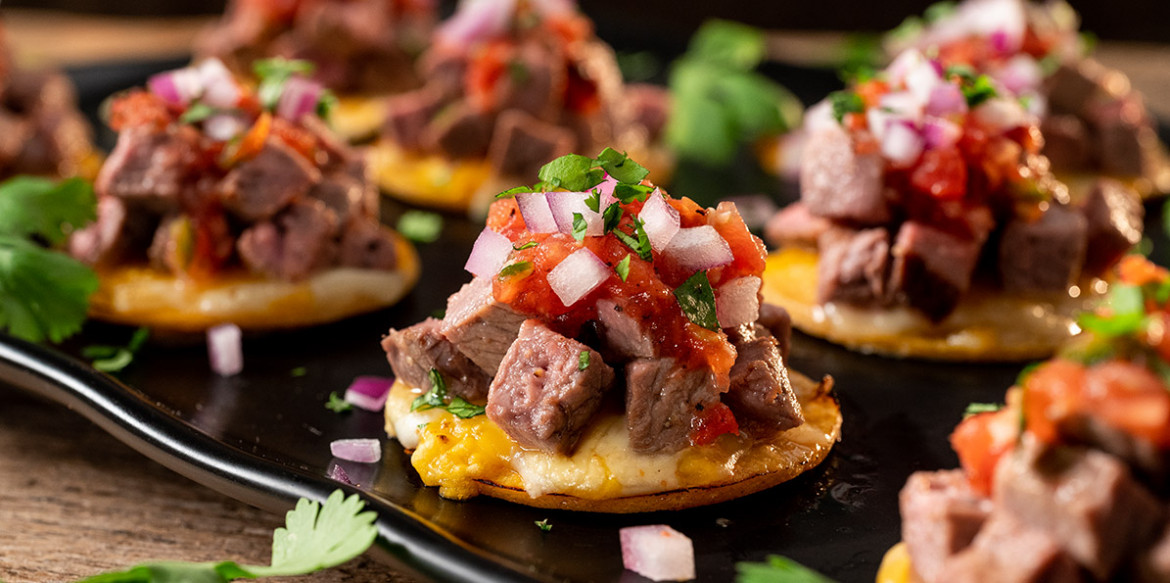 ---
These mini tostada appetizers have tender, juicy carne asada, charred tomato salsa and the creamy, smooth flavor of Sargento® 4 Cheese Mexican. They make a great, festive appetizer!
Ingredients
SALSA:
2 tomatoes
1/8 onion
1 garlic clove
1 serrano chili
salt to taste
CARNE ASADA:
4 medium thin cut steaks
1/4 tsp. onion powder
1/4 tsp. garlic powder
1 Tbsp. vegetable oil
1/4 cup beer
TOSTADAS:
6 corn tortillas
VOLCANOS:
1/4 cup red onion, chopped
1/4 cup cilantro, chopped
Optional: top with sour cream
Directions
SALSA: Char tomatoes on a pan on medium high heat, turning occasionally for 5 minutes, add onion and garlic and chili, continue cooking for 5 more minutes until ingredients are lightly charred. Remove from heat, and pulse for 10 seconds on a food processor (or until you obtain a chunky texture). Season with salt to taste and reserve.
CARNE ASADA: Season the steaks with salt, pepper, onion, garlic powder, vegetable oil, beer and marinate for 15 minutes. Pan fry each steak at medium heat until light golden brown on both sides. Remove from heat and chop into small cubes. Reserve warm.
TOSTADAS: With the help of a round cookie cutter, cut each tortilla into 3 rounds. Place the rounds on a baking sheet and bake in a 375 °F oven for 5 minutes and turn, add a heaping spoonful of cheese and bake until cheese is melted and golden brown. Remove from the oven.
Place a spoonful of the prepared carne asada on top of the hot and cheesy corn tostadas. Add some roasted red salsa, chopped red onion, cilantro, sour cream serve and enjoy.
---