Egg and Cheese Soup
Prep Time: 10 MIN | Cook Time: 30 MIN | Servings: | Calories: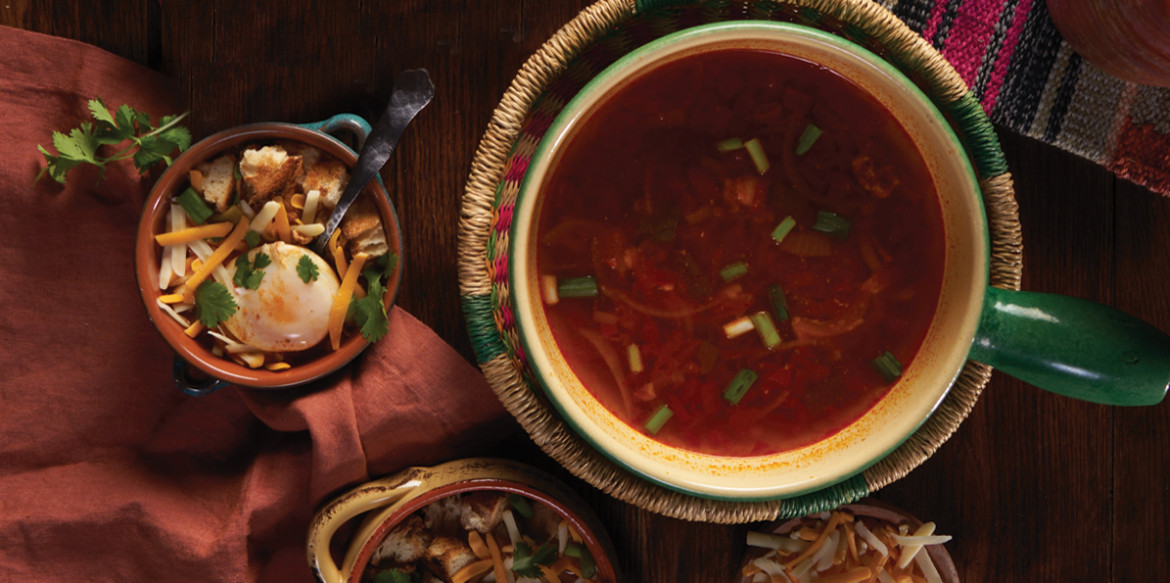 ---
A soothing weeknight soup simply made with vegetables, poached eggs and gooey Sargento® Shredded 4 State Cheddar® Cheese. Serve with a squeeze of lime.
Ingredients
1 tablespoon olive oil plus additional for serving
1 large yellow onion, thinly sliced
2 garlic cloves sliced
3 scallions, cut into 1 inch pieces, both green and white parts
4 large ripe plum tomatoes, diced
1 teaspoons ground achiote
1 teaspoon spicy smoked paprika
1 teaspoon kosher salt
5 cilantro stems, leaves reserved
6 cups vegetable or chicken stock
The juice of one fresh lime
4 eggs
4-3/4" slices sourdough bread, toasted torn into bite size pieces
Directions
Heat olive oil in a medium sauce pan over medium high heat. Add onion, garlic and scallions. Cook stirring constantly until softened and  translucent (approximately 4 minutes.) Add tomatoes, achiote, paprika, salt and cilantro stems; stir and continue cooking until fragrant, about 1 minute.
Pour in stock and bring to a simmer over medium heat. Right before serving, add the eggs, one by one, to poach and cook 5 to 6 minutes, stirring now and then so that the eggs set evenly.
Right before serving, remove the cilantro stems and discard. Divide bread and cheese between the bowls. Ladle hot soup into each bowl, making sure each serving gets an egg.
Drizzle with olive oil to taste and garnish with reserved cilantro leaves and enjoy.
---