Cheesy Baked Mini Potatoes
Prep Time: 15 min | Cook Time: 20 min | Servings: 6 | Calories: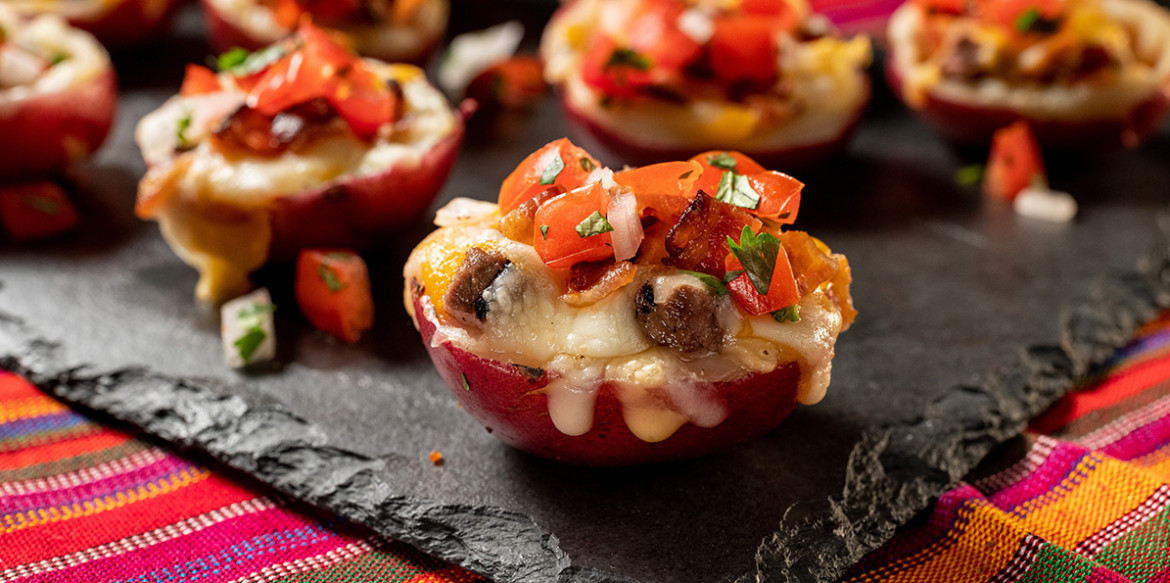 ---
The Mexican-inspired flavors of these steak-stuffed red potatoes is enhanced by Sargento® 4 Cheese Mexican Cheese, bacon, chili, sour cream and lime juice. They make a festive appetizer or a delectable addition to a small-plates dinner party.
Ingredients
CARNE ASADA:
4 Thin cut steaks
1/8 tsp. Onion powder
1/8 tsp. Garlic powder
½ Tbsp. Vegetable oil
Salt and pepper to taste
PICO DE GALLO:
½ cup White Onion, chopped
2 cups Roma tomatoes, chopped
4 Tbsp Cilantro, chopped
1 tsp. Serrano chili, chopped
2 Tbsp. Lime juice
Salt and pepper to taste
FOR POTATOES:
12 ct. Red potatoes
2 slices Smoked bacon, chopped
½ cup Sour cream
Directions
Season the steaks with salt, pepper, onion, garlic powder, vegetable oil, and marinate for 15 minutes. Pan fry each steak at medium heat until light golden brown on both sides. Remove from heat and chop into small cubes. Reserve warm.
Mix onion, tomatoes, cilantro, serrano chili, lime juice, season with salt and pepper to taste and reserve.
Cook the potatoes in boiling salted water until soft, cut in half lengthwise and hollow them out. Reserve.
Fry bacon slices in a skillet over medium low heat until very crispy, chop and reserve.
Place a spoonful of the prepared carne inside the potatoes, add a dollop of sour cream, sprinkle a generous amount of cheese and top with bacon. Bake in a 375 °F oven for 6 -8 min or until cheese is completely melted and lightly browned. Remove from the oven and serve with pico de gallo.
---