Grilled Swiss Patty Melt Recipe
Prep Time: 10 min | Cook Time: 25 min | Servings: 5 | Calories: 674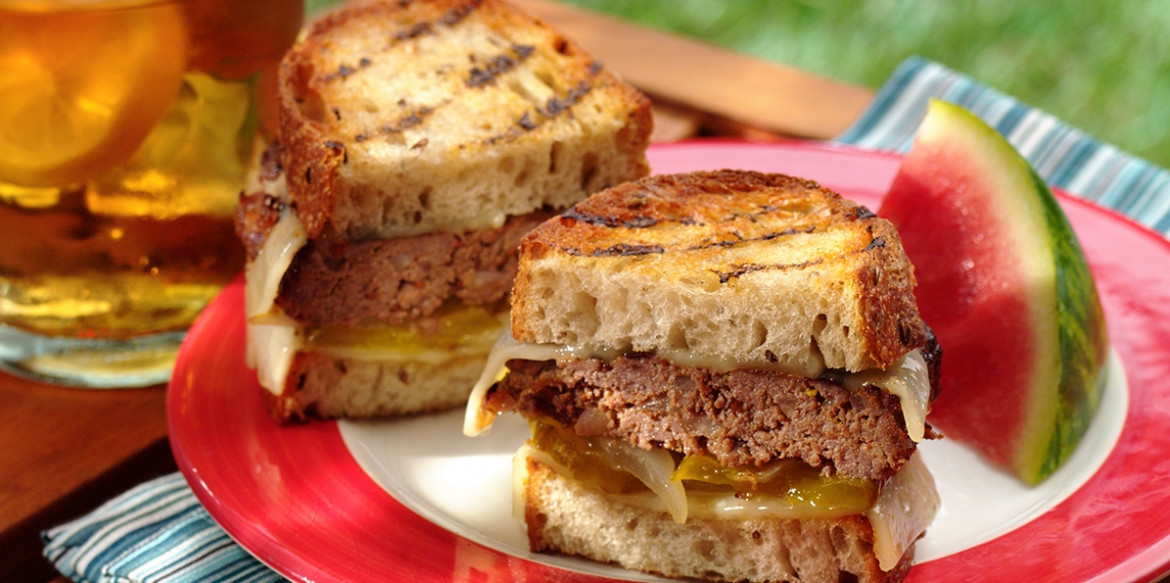 ---
Within a foil pocket, these spiced and handmade patties meet their match with layers of Sargento® Sliced Aged Swiss Cheese, mustard, grilled pickles and onions. These are then placed between thick and hearty pieces of Jewish-style rye bread that's been brushed with olive oil, and grilled until all the ingredients have melted together.
Ingredients
Nonstick cooking spray
1-1/2 lbs. ground beef
1 red onion, chopped, divided
7 Tbsp. whole grain mustard, divided
1/2 tsp. each ground cayenne pepper and salt
2 tsp. Worcestershire sauce
20 pickle slices
4 Tbsp. olive oil, divided
10 slices thick Jewish rye bread
Directions
Coat grate with cooking spray. Preheat grill to medium heat.
In a bowl, mix together the ground beef, half the red onion, 4 Tbsp. mustard, cayenne pepper, salt and Worcestershire sauce. Form into 5 oval patties about 1/2-inch thick. Place on grill and cook about 5 minutes on each side to desired doneness. Cover with foil to keep warm and set aside.
Place pickles and remaining onions in foil pouch with 1 tablespoon olive oil; seal and place directly on grill for about 10-12 minutes. Assemble sandwiches by spreading 5 slices bread with remaining mustard and layering each with a slice of cheese, grilled pickles and onions, burgers, a slice of cheese and remaining bread. Brush outside lightly with remaining olive oil; grill sandwiches 30-45 seconds on each side. Serve immediately.
---