Grilled Corn Cheeseburger Recipe
Prep Time: 15 min | Cook Time: 15 min | Servings: 4 | Calories: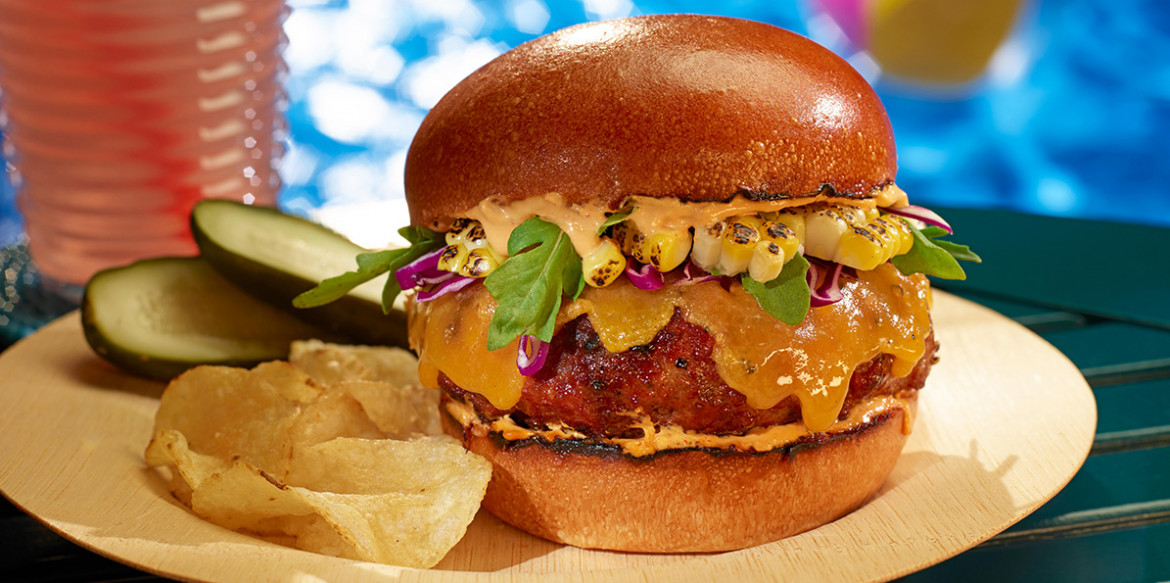 ---
Two slices of gooey Sargento® Sharp Cheddar Cheese, which adorn a ground sirloin burger, is the topper to this delicious burger that also includes red cabbage, arugula and chipotle aoli.
Ingredients
1 cup mayonnaise
1 Tbsp. chopped chipotle pepper in adobo sauce, minced
1 Tbsp. lime juice
1 tsp. ground cumin
1.5 lbs. ground beef
2 corn cobs
¼ cup chipotle aioli
1 cup shredded red cabbage
1 cup arugula
4 brioche buns, toasted
Directions
In a medium mixing bowl mix together mayonnaise, minced chipotle pepper, lime juice, cumin and season with salt and pepper.
Pre-heat grill to medium heat
Divide the ground beef into 4 patties and season with salt and pepper
Place corn onto the grill and grill for 5 minutes. Remove corn from grill, cut corn kernels off the cob and set aside until ready to place on hamburger.
Place hamburger onto the grill and cook on each side for 4-5 minutes or until cooked through. Then top with 2 slices of cheese and melt.
Spread chipotle aioli onto each side of the toasted Brioche bun, place the grilled burger onto the bun, top with grilled corn kernels, arugula and shredded cabbage and top bun.
---