Cheese Stuffed Cheeseburger
Prep Time: 10 min | Cook Time: 10 min | Servings: 4 | Calories: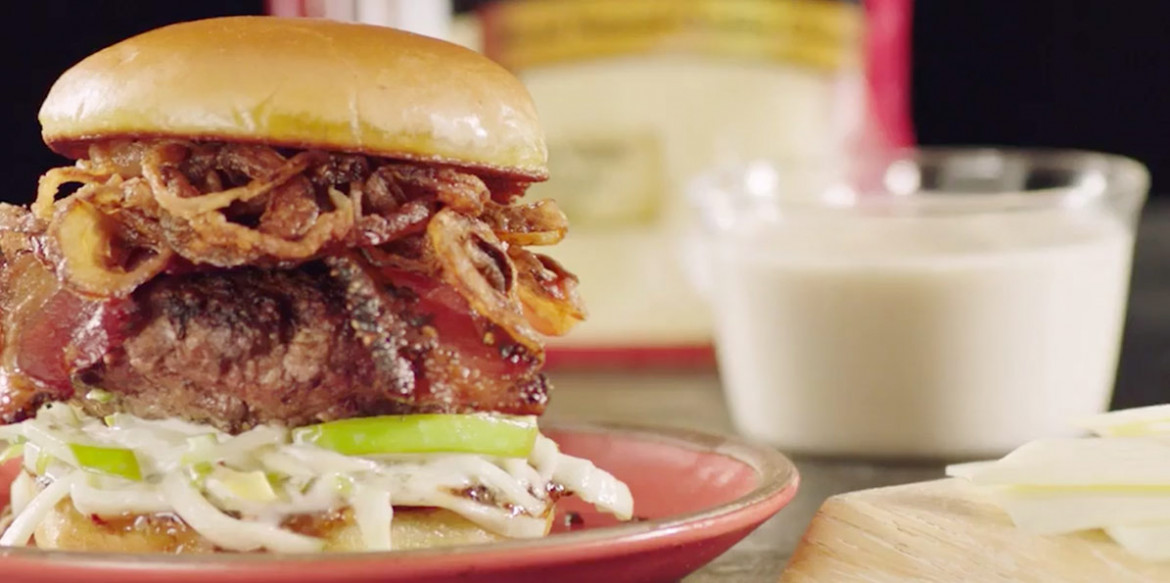 ---
Make these tasty cheeseburgers when you want to spice up the grill or stove top. Succulent beef patties are prepared on a brioche bun with melted Sargento® Reserve Series™ Sliced Cheese.
Ingredients
1 1/4 cups evaporated milk
1 tablespoon cornstarch
1 pack Sargento® Reserve Series™ Fresh Asiago Slices
2 tablespoons fig jam, from jar
1/4 cup apple slaw
2 tablespoons crispy onions
1 pound ground beef
8 slices thick-cut peppered bacon, cooked
Brioche buns, toasted and buttered
Directions
For the asiago cheese sauce: Heat the evaporated milk in a small saucepan over medium heat. In a small bowl, mix the cornstarch with 2 tablespoons of water to form a slurry. Whisk the cornstarch slurry into the milk and immediately add the cheese, stirring constantly until the cheese is melted and the sauce is thick and smooth.
For the burgers: Stack the cheddar slices and cut into quarters. Divide the meat into four equal portions. Form four patties, place a cheese stack in the center of each patty and form the meat around the cheese. Season liberally with salt and pepper to taste. Grill to desired temperature.
Serve burgers along with brioche buns, cheese sauce, bacon, jam, slaw and crispy onions.
---