Cheese Stuffed BBQ Chicken Sandwich
Prep Time: 5 min | Cook Time: 20 min | Servings: 2 | Calories: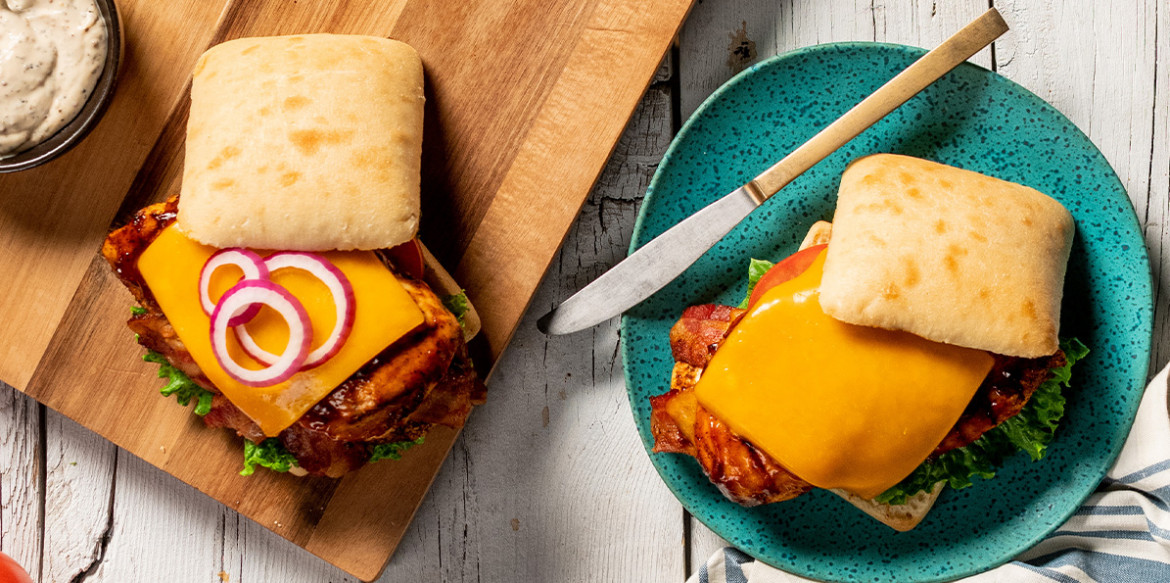 ---
The pleasant tang of Sargento® Sharp Cheddar really amps up this BBQ chicken sandwich made on the grill and topped with a smoky southern sauce. The bacon is optional, but it seriously adds a whole other level of taste to this incredible sandwich.
Ingredients
FOR CHICKEN BREAST:
2 Boneless skinless chicken breasts
1 Tbsp Olive oil
1/4 cup Blacken seasoning
1/2 cup BBQ sauce
4 Slices cooked bacon (optional)
FOR SAUCE:
1/2 cup Mayonnaise
1 tsp. Liquid smoke
1 tsp. Stone ground mustard
1 tsp. coarse ground pepper
FOR SANDWICH:
2 Leafs of lettuce
4 Slices of tomato
Ciabbatta or pretzel roll
Directions
Trim fat from chicken breast. Cover with plastic wrap. Using a meat mallet, flatten the thickest part of the breast lightly to make thickness consistent.
Using a sharp knife, hold one hand over the chicken breast firmly and carefully insert the knife into the breast in the center. Work the knife back and forth carefully, to create a pocket for stuffing.
Stuff each chicken breast with a slice of Sargento® Sharp Cheddar Cheese
Brush each breast on both sides with olive oil. Add blackening seasoning to both sides. Allow it to rest for about 5 minutes.
Pre-heat your grill to 450 degrees and brush your grill plates with oil to avoid sticking. Grill the chicken breast for about 4 minutes on each side. Brush each breast generously with BBQ sauce and grill for another minute. When the chicken reaches an internal temperature of 165 degrees it is done. Set the breast on a warming rack and top with 1 slice of Sargento® Sharp Cheddar Cheese and 2 slices of cooked bacon.
While the chicken is resting, place rolls on the grill, cut side down, and grill until lightly browned. Remove from grill, spread top side of bread with southern sauce and assemble sandwich with chicken, tomatoes, and lettuce.
---