Cheese Stuffed Roasted Veggie Focaccia
Prep Time: 20 min | Cook Time: 25 min | Servings: 4 | Calories: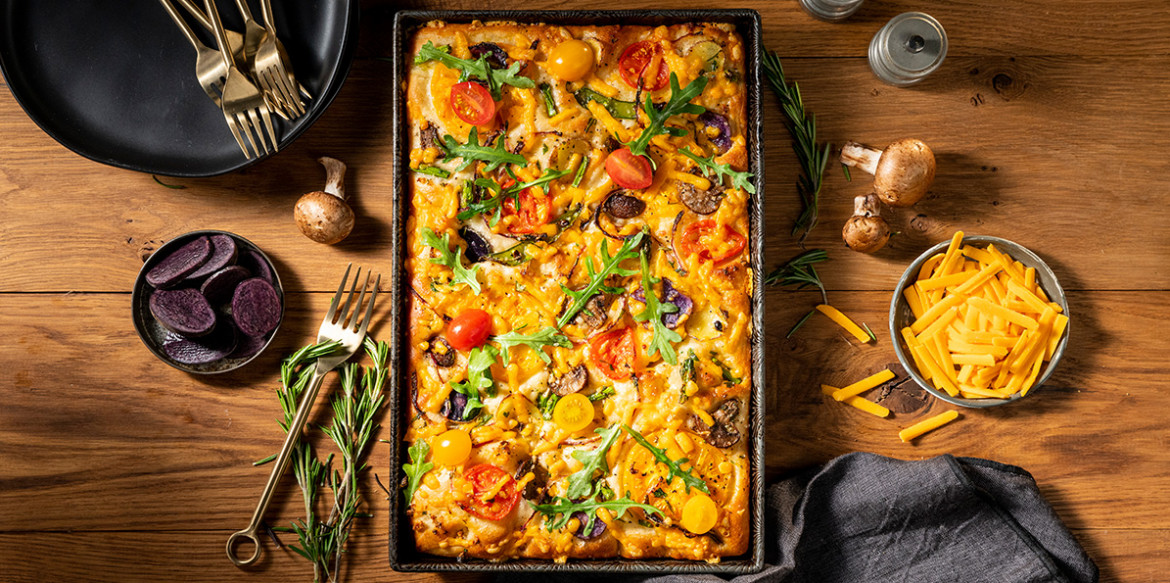 ---
This Italian inspired bread is stuffed with lots of gooey Sargento® Shredded Mozzarella cheese, then topped with over a dozen fresh herbs and vegetables, drizzled with olive oil, then finished with Sargento® Reserve Series™ 18-Month Aged Cheddar.
Ingredients
24 ozs. Fresh pizza dough, divided in half
¼ cup Extra virgin olive oil, divided
4 stalks Asparagus, trimmed, cut into 1" pieces
½ cup Sliced crimini mushrooms
½ cup Thinly sliced red onion
3 small Fingerling potatoes (purple, red or yellow), thinly sliced
¼ cup Fresh corn kernels
2 cloves Fresh garlic, minced
1/2 Tbsp. Fresh parsley, chopped
1/2 Tbsp. Fresh rosemary, chopped
½ Tbsp. Fresh tarragon, chopped
½ tsp. Coarse sea salt
¼ tsp. Fresh ground black pepper
2 cups Sargento® Shredded Mozzarella Cheese
5 slices Heirloom tomato
½ cup Grape tomatoes, halved
5 ea. Sugar snap peas, halved lengthwise
¼ cup Baby arugula, micro greens or chopped herbs, optional
Directions
Pre-heat oven to 375 degrees. Place pizza dough into separate bowls coated with 1 Tbsp. olive oil, cover with plastic wrap and place in a warm place until slightly risen.
Meanwhile, In a large bowl, combine the asparagus and the next ten ingredients along with one tablespoon olive oil. Toss to coat. Set-aside.
Press one round of dough into a well oiled 13"X9" metal baking pan. Sprinkle mozzarella cheese over dough. Sprinkle with salt and pepper. Rollout remaining dough ball to fit in pan and place over cheese. Press dough to edges. Press finger tips into dough making small indents. Drizzle with olive oil.
Sprinkle reserved vegetable mixture evenly over the top of dough. Sprinkle Aged Cheddar over vegetables.
Bake for 20-25 minutes or until focaccia is golden brown. Remove pan from oven, then sprinkle with remaining cup of cheese, grape tomato halves, pea pod halves and micro greens. Drizzle with additional olive oil and salt and pepper if desired. Cut into pieces and serve.
---