Cheesy Chicken Chili Recipe
Prep Time: 10 min | Cook Time: 20 min | Servings: 4 | Calories: 695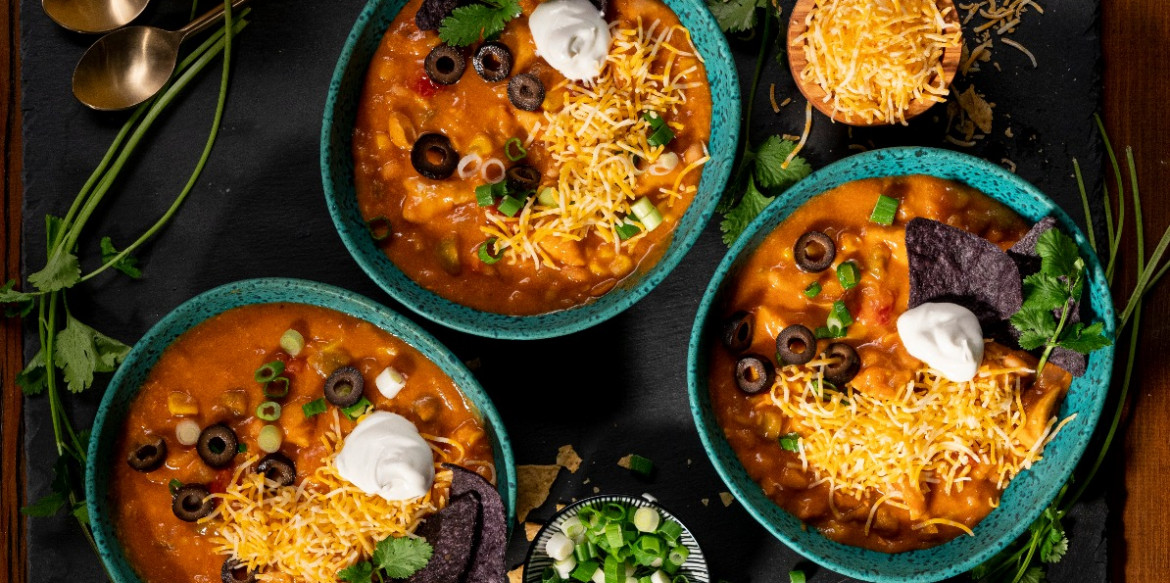 ---
There's nothing like soul-warming chili on a brisk day. This recipe, featuring your choice of Sargento® Colby-Jack or Monterey Jack cheese, is ready in about a half hour for a comforting, filling and delicious meal.
Ingredients
1-1/2 Tbsp. olive or vegetable oil
1 lb. boneless, skinless chicken breast halves, cut into 3/4-inch chunks
2 Tbsp. ground cumin
1 jar (16 oz.) salsa
2 cans (16 oz. each) great northern beans, drained and rinsed
1 cup frozen corn
1-1/2 cups (6 oz.) Sargento® Shredded Colby-Jack Cheese - Fine Cut or Sargento® Shredded Monterey Jack Cheese, divided
Sour cream (optional)
Green onions, sliced (optional)
Black olives, sliced (optional)
Tortilla chips, crushed (optional)
Directions
Heat oil in large saucepan over medium heat. Add chicken; cook 3 minutes, stirring frequently. Add cumin; cook 1 minute, stir constantly. Add salsa, beans and corn; bring to a boil. Reduce heat; cover and simmer 15 minutes, stirring once.
Remove from heat; stir in 1 cup cheese. Ladle into bowls; top with remaining cheese and serve with toppings, as desired.
---