Sharp Cheddar Breakfast Sandwich Recipe
Prep Time: 5 min | Cook Time: 25 min | Servings: 4 | Calories: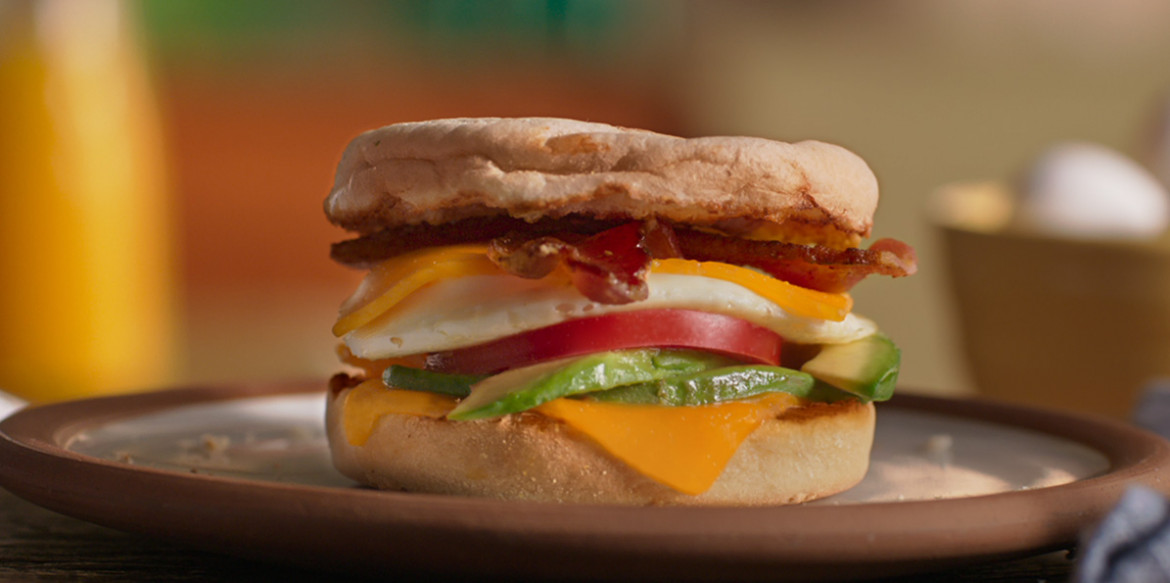 ---
This delightful and charming breakfast sandwich is big on flavor. Sargento® Sharp Cheddar Slices are topped fresh avocado, tomato, bacon and a fried egg to keep your taste buds happy!
Ingredients
4 lg. Eggs
4 tsp. Butter. Salt & pepper, to taste
4 ea. English muffins, split, toasted
1 med. Avocado, halved, sliced crosswise into thin slices
4 slices Tomato
4 slices Bacon, cooked, broken in half
Directions
Pre-heat oven to 300 degrees Fahrenheit. In a large non-stick skillet, melt 2 tsp. butter over medium-low heat. Swirl pan to distribute butter.
Crack 1 egg into each side of the pan. Cook until whites are cooked through and egg slightly jiggles when sliding the pan back and fourth. Transfer eggs to a small baking sheet, season with salt and pepper and set aside.
To Assemble Sandwiches: Place one slice of cheese on each toasted bottom of English muffin. Place 3 slices of avocado over cheese, then top each with 1 slice of tomato, 1 cooked egg, , 1 slice of cheese, 2 half slices of bacon and English muffin top. Place sandwiches on a small baking sheet lined with foil. Bake for 5-7 minutes or until cheese is melted and egg is warm. Transfer to plates and serve.
---