Crustless Vegetable Quiche Recipe
Prep Time: 10 min | Cook Time: 35 min | Servings: 6 | Calories: 238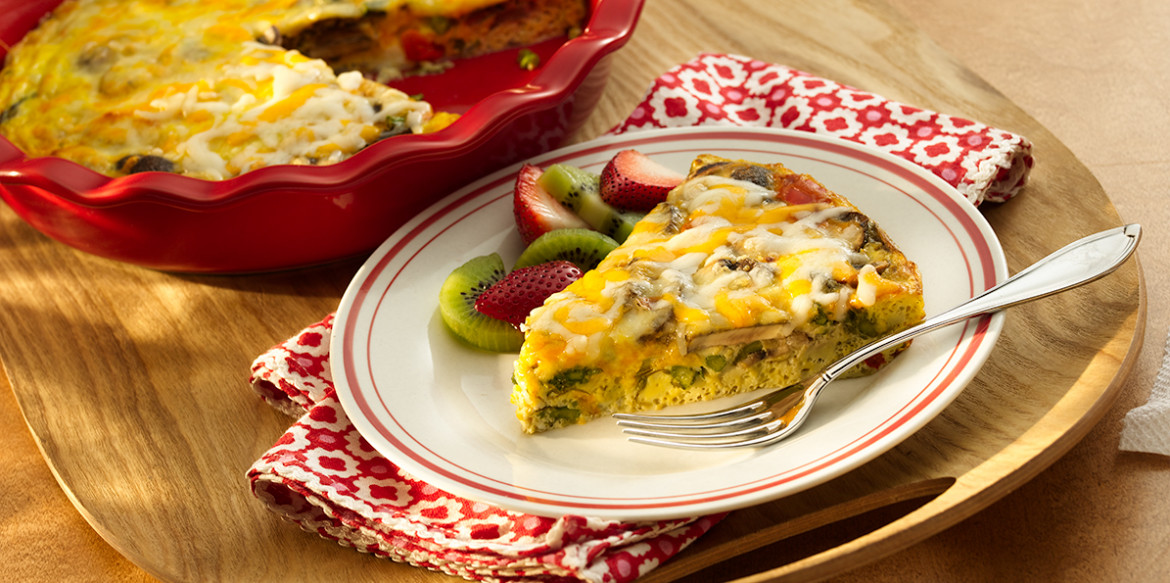 ---
This lovely dish is perfect for the next time you're hosting brunch or breakfast. Its colorful array of chopped peppers, sliced mushrooms and plenty of Sargento® Shredded 4 Cheese Pizzeria brings in authentic pizzeria cheesiness and flavor. Everyone is sure to love this light meal.
Ingredients
1 Tbsp. butter or margarine
1/2 cup chopped onion
1/2 cup chopped red or green bell pepper
2 cups sliced fresh mushrooms
1 cup (1/2-inch pieces) fresh asparagus (optional)
1/4 tsp. salt
1/8 tsp. cayenne pepper
6 eggs
1/2 cup half-and-half or milk
2 cups (8 oz.) Sargento® Shredded 4 Cheese Pizzeria
Directions
Melt butter in large skillet over medium heat; add onion; cook 5 minutes, stirring occasionally. Add bell pepper, mushrooms and asparagus, if desired; continue cooking 5 minutes, stirring occasionally. Stir in salt and cayenne pepper.
Beat eggs and half-and-half together in medium bowl; stir in vegetable mixture. Lightly coat 10-inch quiche dish or deep-dish pie pan with cooking spray. Pour egg and vegetable mixture into pie pan. Sprinkle cheese over top; bake in preheated 350°F oven 35 minutes or until eggs are set.
---