Chorizo Tater Tot Casserole
Prep Time: 20 MIN | Cook Time: 60 MIN | Servings: 4 | Calories: 1530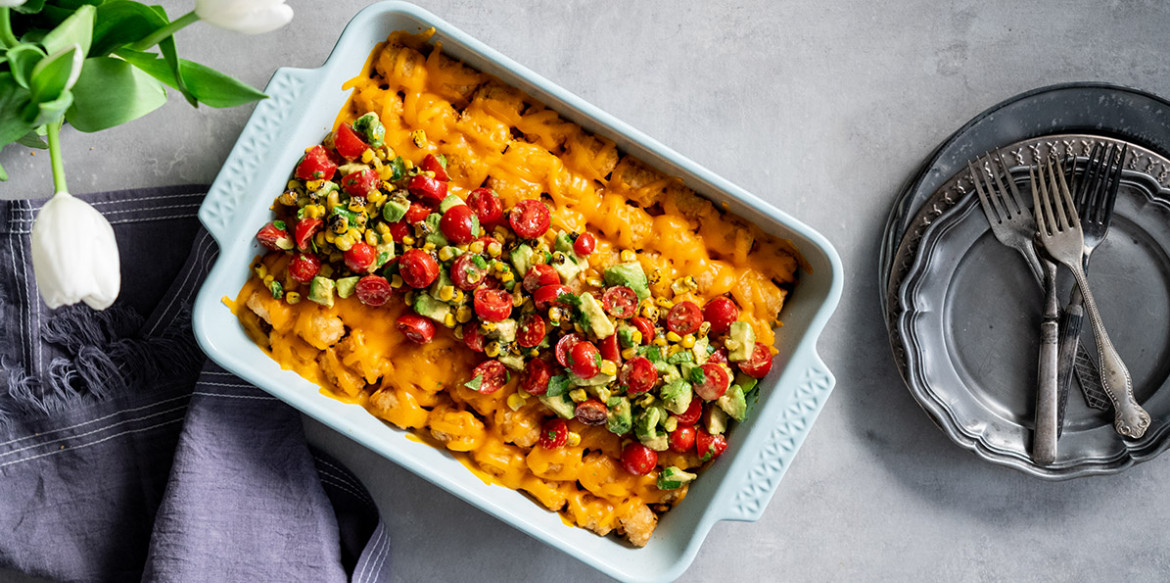 ---
Tater tots, chorizo, cheese and eggs all baked together to form a fluffy south of the border casserole. Top it with a fresh corn and avocado salsa for a dish that will satisfy the whole family.
Ingredients
6 oz. chorizo sausage
8 oz. ground sirloin
1 small sweet onion, diced
1 1/4 cups heavy cream
8 large eggs
1 Tbsp. chili powder
1 bag frozen tater tots
1 avocado, seeded and diced
1 fresh tomato, diced
1/2 cup roasted corn
1 Tbsp. fresh cilantro, finely chopped
1 Tbsp. fresh lime juice
1 Tbsp. extra virgin olive oil
1/2 tsp. kosher salt
Directions
Pre-heat a large non-stick skillet over medium heat. Add chorizo, ground beef and onion. Cook until meat is cooked through and beef is no longer pink, breaking up mixture as it cooks. Drain meat and set aside.
Pre-heat oven to 375 degrees. In a large bowl, combine cream, eggs and chili powder. Whisk until well blended. Pour mixture into a greased 13" X 9" casserole dish.
Stir in the Sargento® Shredded 4 Cheese Mexican. Place frozen tater tots into liquid. Bake for 40 minutes. Remove pan from oven and top with Sargento® Reserve Series™ 18-Month Aged Cheddar Cheese and reserved chorizo and beef mixture. Bake an additional 20-25 minutes or until mixture is set.
For topping: In a medium bowl, combine avocado and remaining ingredients. Spoon mixture over the top of the baked casserole and serve.
---