Cheesy Tomato & Bacon Quiche
Prep Time: 10 MIN | Cook Time: 1 HR | Servings: 4 | Calories: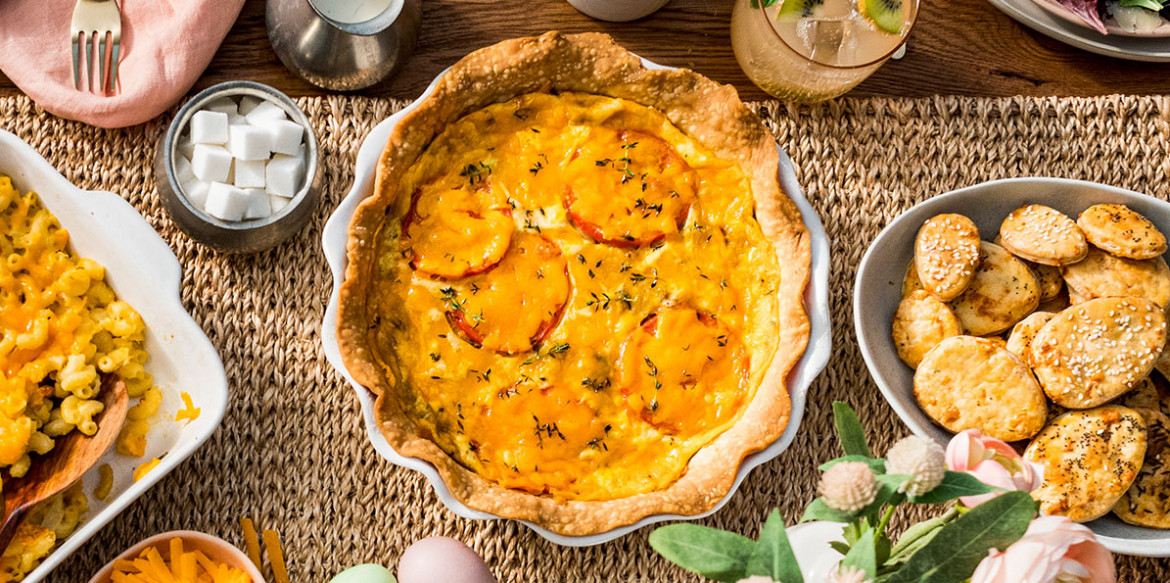 ---
Popular for breakfast, brunch and lunch, or even a light dinner paired with a green or fruit salad, quiche is quick and easy to prepare with ingredients you have on hand. This one combines the simple flavors of bacon, caramelized onions, ripe tomato and Sargento® Sharp Cheddar Cheese.
Ingredients
1 tsp. Olive oil
1 Sweet onion
3 Large eggs
1 cup Heavy whipping cream
2 tsp. Dijon mustard
1 tsp. minced fresh thyme
1 cup Sargento® Sharp Cheddar Cheese
12 oz cooked bacon, crumbled
1 Pastry crust
1 ripe tomato, sliced
1/4 cup Sargento® Mild Cheddar Cheese
Directions
Preheat oven to 350 degrees F. In a medium skillet heat oil over med low heat. Add onions and cook until soft and caramelized, about 30 minutes, stirring occasionally.
In a medium bowl whisk the eggs, cream, Dijon, thyme, lemon zest, salt & pepper. Add cheese and stir. Sprinkle caramelized onions and bacon over the base of the pastry crust and pour in egg mixture, top with tomatoes and remaining ¼ cup cheese. Bake for 30-40 minutes until set, cover with foil if cheese begins to burn. Allow to rest for 10 minutes before slicing.
---