Cajun Omelet
Prep Time: 10 min | Cook Time: 7 min | Servings: 2 | Calories: 464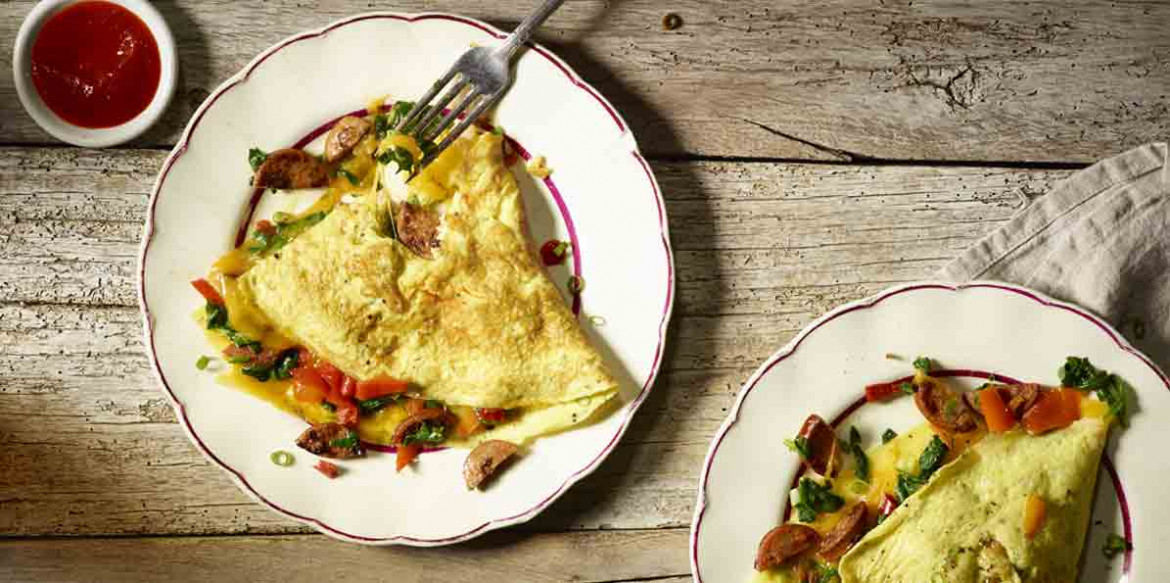 ---
Whip up this Cajun-inspired omelet that's bursting with andouille sausage, peppers and spinach. A generous helping of Sargento® Ultra Thin® Mild Cheddar Cheese Slices melted within brings all of the flavors together with gooey goodness. This omelet is perfect for breakfast or brunch and will be sure to please everyone at the table.
Ingredients
2 cups packed baby spinach leaves
2 links fully cooked chicken Andouille sausage, chopped (1 cup)
1/3 cup well-drained diced roasted red peppers
4 eggs
1/4 cup chopped chives or green onion
1/4 tsp. freshly ground black pepper
1 Tbsp. canola oil or butter
Directions
Place spinach in a microwave safe bowl. Cook at high power 30 to 40 seconds or just until wilted. Add sausage and red peppers; toss well. Beat eggs with chives and pepper.
Heat oil or melt butter in a 10-inch nonstick skillet with sloped sides over medium heat until hot. Add egg mixture; cook 3 to 4 minutes or until bottom is set. Arrange cheese over egg mixture; top with spinach mixture. Use 2 spatulas to fold egg mixture in half over filling. Cook over low heat 3 minutes or until center is set. Cut omelet in half; transfer to serving plates.
---