Sauerkraut and Kielbasa Nachos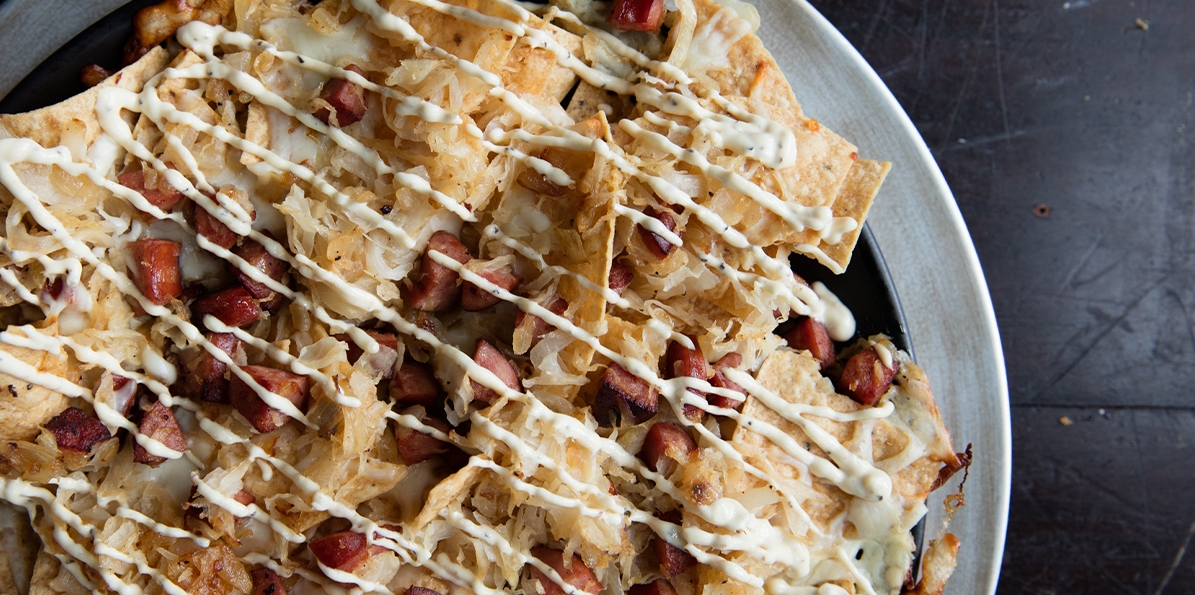 ---
Ingredients
CRACKED PEPPER-DIJON CREAM
1 cup mayonnaise
3 Tbsp. Dijon mustard
24 oz. jar sauerkraut
2 tsp. sauerkraut juice (reserve from jar)
3/4 tsp. coarsely ground black pepper
1/2 tsp. garlic powder
1/2 tsp. onion powder
NACHOS
2 Tbsp. butter
1 medium yellow onion, chopped
1 link (14 oz) Kielbasa, cubed into 1/2" pieces
2 cups sauerkraut, drained and squeezed
4 cups (16 oz.) Sargento® Shredded Mozzarella - Traditional Cut
1 bag (13 oz) tortilla strips
Directions
To make the Cracked Pepper-Dijon Cream, combine first 6 ingredients in a medium sized bowl and mix well. Keep in the refrigerator until ready to use.
In a large frying pan, melt butter over medium-high heat. Add onions and soften for about 5 minutes. Add kielbasa and brown, stirring often, about 3 minutes more. Add sauerkraut and continue to stir, about 3 more minutes. Remove from heat.
Cover a large rimmed baking tray with aluminum foil and mist with cooking spray. Spread chips on baking tray and cover chips evenly with cheese. Sprinkle kielbasa-sauerkraut mixture on top of cheese. Place in a 350° F oven and bake for 15-20 minutes.
Place nachos on a serving tray and drizzle with Cracked Pepper-Dijon Cream.
---