Ranch Taco Chicken Salad Recipe
Prep Time: 10 min | Cook Time: 8 min | Servings: 6 | Calories: 493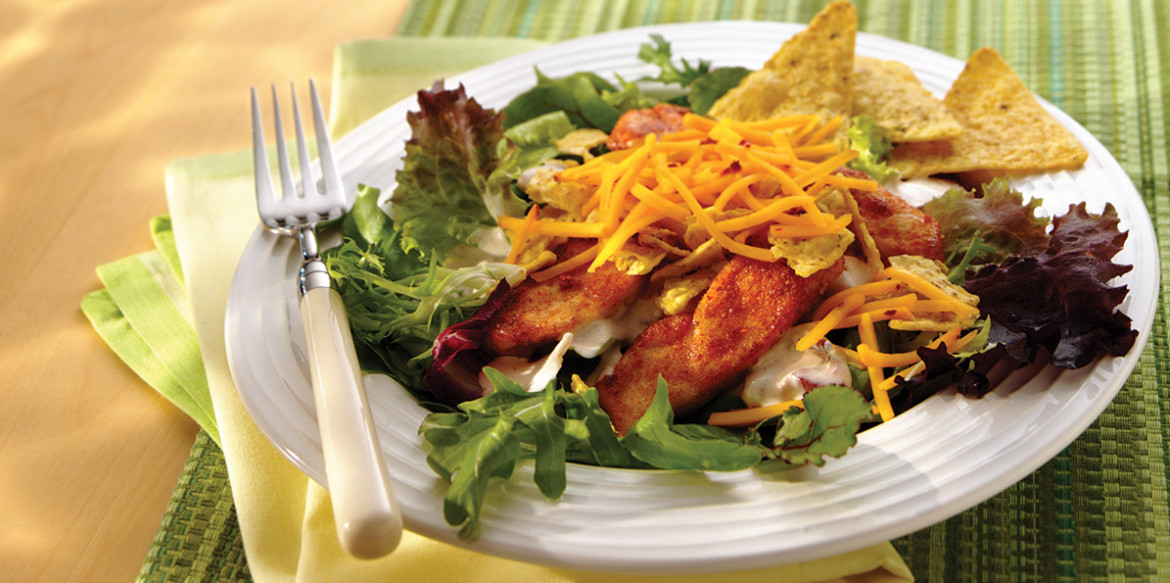 ---
Tex-Mex flavors abound in this main dish salad. Mixed greens are topped with chicken, salsa-ranch dressing, tortilla chips and Sargento® Shredded Mild Cheddar Cheese with chipotle chilis in adobo sauce.
Ingredients
1 Tbsp. vegetable oil
1 lb. boneless, skinless chicken breasts, sliced into strips
2 tsp. chili powder
1 tsp. ground cumin
1 tsp. garlic salt
3/4 cup salsa
3/4 cup ranch salad dressing
1 lb. torn mixed salad greens or romaine lettuce
1/2 cup coarsely crushed tortilla chips
1-1/2 Tbsp. minced rinsed and drained canned chipotle chilies in adobo sauce*
1-1/2 cup (6 oz.) Sargento® Shredded Mild Cheddar Cheese - Fine Cut
Directions
Heat oil in large nonstick skillet on medium-high heat. Add chicken, chili powder, cumin and garlic salt. Cook, stirring frequently, 6 to 8 minutes or until chicken is cooked through.
Combine salsa and ranch dressing. Mix cheese and chipotle chilies. Top greens with dressing, chicken, chips and cheese mixture.
---