Philly Cheesesteak Sliders
Prep Time: 10 MIN | Cook Time: 12 MIN | Servings: 14 | Calories: 603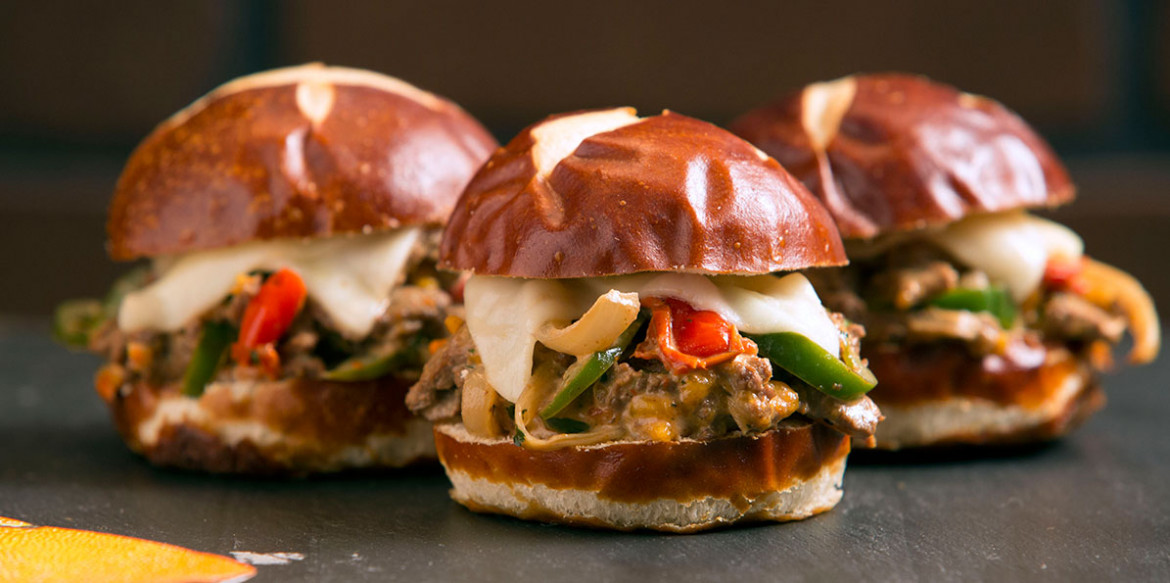 ---
Sargento® Provolone really amps up the flavor in these tasty sliders. Thinly sliced flank steak is covered with caramelized onions and peppers and melted cheese.
Ingredients
14 pretzel rolls
14 slices Sargento® Provolone Cheese
MARINADE
3 Tbsp. Dijon mustard
3 Tbsp. balsamic vinegar
3 Tbsp. Worcestershire sauce
1 tsp. salt
1 tsp. each garlic powder, onion powder, dried thyme, dried parsley
1/2 tsp. each pepper and red pepper flakes
1 cup mayonnaise
hot sauce to taste
PHILLY STEAK MIX
2 lbs. ribeye steak, thinly sliced
1 1/2 Tbsp. olive oil, divided
2 green bell peppers, thinly sliced
1 poblano pepper, thinly sliced
1 large onion, thinly sliced
1 cup roughly chopped jarred cherry peppers
Directions
Mix marinade ingredients together in a resealable plastic bag. Remove 1 tablespoon marinade and add to a small bowl with 1 cup mayonnaise to make "Spiced Mayonnaise". Add hot sauce to mayonnaise if desired, cover and store in the refrigerator.
Add steak to resealable plastic bag with remaining marinade. Marinate up to 6 hours overnight.
Preheat oven to 400 degrees F.
Prepare pretzel rolls by slicing each in half horizontally.
Heat 1 teaspoon olive oil in a large skillet over medium high heat until it begins smoking. Pat excess marinade off steak and add to skillet. Cook undisturbed for 1 minute then continue to cook while stirring 1-2 minutes until it is no longer pink. Remove to a paper towel lined plate.
Wipe out skillet and heat one tablespoon olive oil over medium high heat. Add onion and peppers and cook 6-8 minutes or until softened. Add steak back to pan along with 1 tablespoon Spiced Mayonnaise. Stir just until steak is warmed through, about 1 minute. Season with salt and pepper to taste.
Spread each top and bottom half of pretzel roll with Spiced mayonnaise. Evenly divide beef mixture among bottom buns then top each with 1 slice of Sargento® Provolone Cheese. Bake sliders open faced for 5 minutes or until cheese is completely melted. Place top buns and serve immediately.
---