Pesto Cheesecake
Prep Time: 15 min | Cook Time: 45 min | Servings: 10 | Calories: 232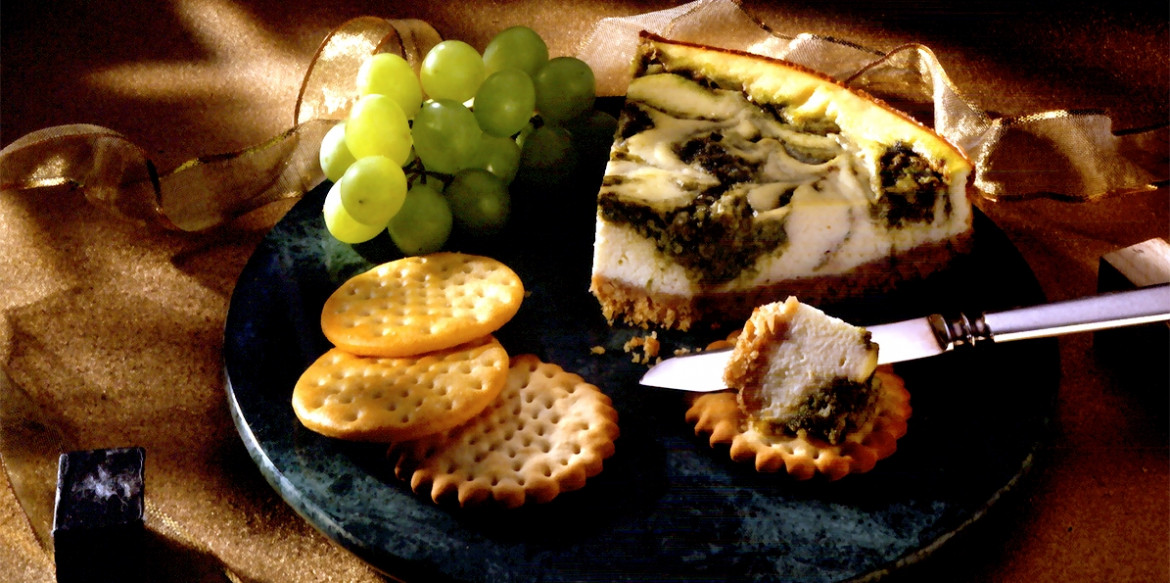 ---
This cheesecake will be a hit at your next family event. Savory pesto and creamy Sargento® Whole Milk Ricotta make for a delicious combination of flavors in this crowd-pleasing appetizer.
Ingredients
=Crust:
1 cup fine dry bread crumbs
1/2 cup very finely chopped toasted pine nuts or walnuts
3 Tbsp. butter or margarine, melted
=Filling:
1/2 cup half-and-half
2 Tbsp. all-purpose flour
1/2 tsp. salt
2 eggs
1/3 cup homemade or prepared pesto sauce
Directions
Lightly grease sides of 8 or 9-inch springform pan. Combine crust ingredients. Press evenly over bottom of pan. Refrigerate while preparing filling.
Combine Ricotta cheese, half-and-half, flour and salt in large bowl of electric mixer. Beat until smooth. Add eggs, one at a time; blend until smooth. Pour over crust. Spoon pesto by teaspoonsful randomly over cheese mixture. Swirl into cheese mixture with knife for marbled effect.
Bake in preheated 350°F oven 45 minutes or until center is just set. Cool in oven with door propped open 30 minutes. Remove to wire cooling rack. Cool to room temperature. Cut into thin slices.
---