Pasta Salad with Grilled Chicken
Prep Time: 25 min | Cook Time: 10 min | Servings: 6 | Calories: 431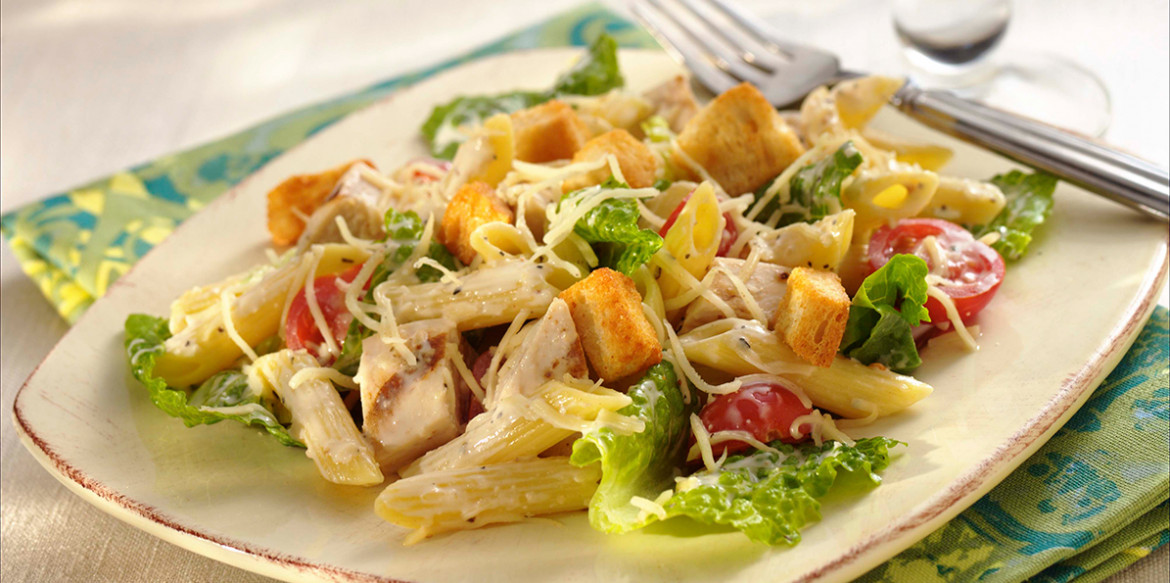 ---
Make this tasty pasta salad with grilled tender chicken breast, crisp romaine lettuce and cherry tomatoes with a creamy Caesar dressing and Sargento® Shredded 6 Cheese Italian. This colorful, tossed salad is perfect for any meal.
Ingredients
1/2 cup plus 2 Tbsp. light or regular Caesar salad dressing, divided
4 (4 to 5 oz.) boneless, skinless chicken breast halves
2 cups (6 oz.) multi-grain or regular penne pasta, cooked, rinsed with cold water and drained
3 cups packed torn romaine lettuce leaves
1-1/2 cups halved cherry or grape tomatoes
1/2 cup prepared garlic or herb croutons
Freshly ground black pepper
Directions
Brush the 2 tablespoons dressing over both sides of chicken breasts. Grill over medium-hot coals on a covered grill or cook in a ridged grill pan over medium heat 4 to 5 minutes per side or until chicken is no longer pink in center. Transfer to carving board; let cool 15 minutes. Cut chicken into chunks.
Meanwhile, combine pasta and remaining 1/2 cup dressing in a large bowl. Add chicken and 1-1/2 cups cheese; toss well. Add lettuce and tomatoes; toss well and transfer to serving plates. Top with remaining cheese and croutons. Serve with pepper.
---