Layered Italian Dip Recipe
Prep Time: 15 min | Cook Time: | Servings: 20 | Calories: 90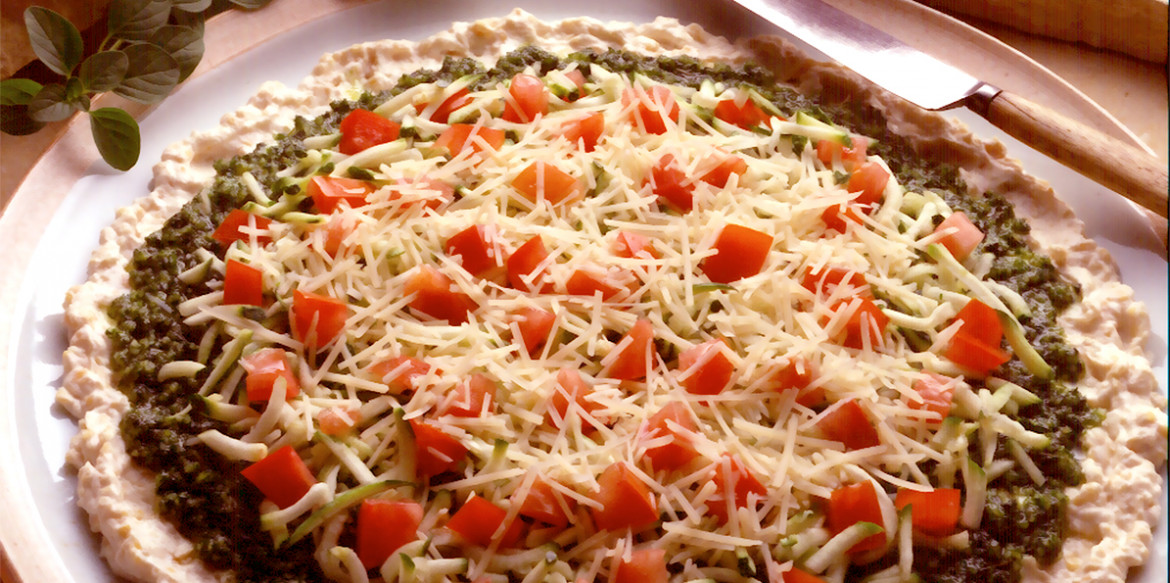 ---
This dip will wow the guests at your next party not only with its elegant presentation but also with the flavorful ingredients in every scoop. A nutty homemade pesto sauce made with Sargento® Shredded Parmesan Cheese joins a helping of garbanzo bean mash, zucchini and tomato that goes great with an assortment of dippers.
Ingredients
1 can (15 oz.) garbanzo beans, rinsed and drained
1 cup sour cream
3/4 cup homemade or prepared pesto sauce
1 small zucchini, shredded
1 small tomato, chopped
Toasted bread slices, bread sticks or assorted crackers
=Pesto Sauce:
2 cloves garlic, minced
2 cups Italian parsley leaves
2 Tbsp. dried basil
2 tsp. salt
1/4 cup pine nuts or walnuts
3/4 cup vegetable oil
1/4 cup olive oil
Directions
Mash garbanzo beans with sour cream in small bowl. Spread mixture over large platter. Spoon pesto sauce over bean mixture. Top with zucchini and tomato. Sprinkle with Parmesan cheese. Serve with toasted Italian bread slices, bread sticks or assorted crackers.
For Homemade Pesto: place garlic, Italian parsley leaves and basil in food processor; process until chopped. Add Parmesan cheese, salt and pine nuts; process until combined. With machine running, add oil in steady stream. Continue processing until sauce is smooth. Makes about 3 cups pesto.
---