Double Pork & Cheese Sliders Recipe
Prep Time: 10 Min | Cook Time: 10 Min | Servings: | Calories: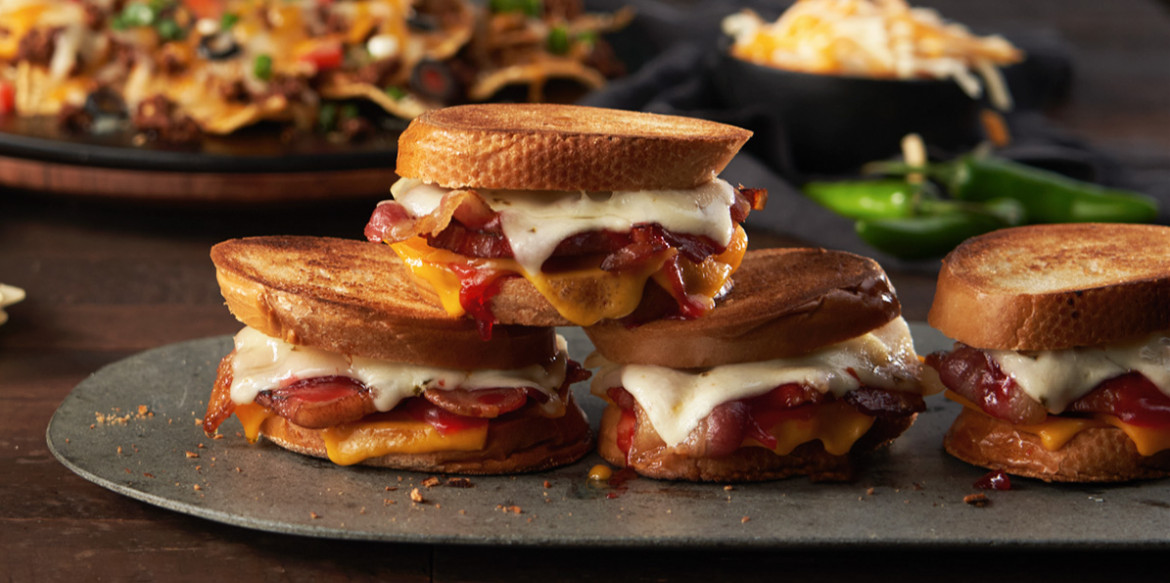 ---
Carved ham is pan-fried with maple syrup, then piled onto buttered baguette slices with crisp bacon, Sargento® Pepper-Jack and Sharp Cheddar Cheese slices and a sweet raspberry mayo, then grilled until golden brown.
Ingredients
16 slices Baguette bread(1/2 inch)
3 Tbsp. Butter, softened
4 Slices Carved ham, cut or torn into 16 pieces
2 tsp. Maple syrup
8 strips Bacon, cooked
½ cup Seedless raspberry jam, optional
1 Tbsp. Mayo, optional
Directions
Butter one side of each slice of bread and set aside.
In a large skillet, pan-fry ham and maple syrup over medium heat until golden brown. Transfer ham to a plate and set aside.
In a small bowl, combine preserves and mayo. Set aside.
To assemble sandwiches, place 1 half slice of pepper-jack cheese on the unbuttered side of one piece of bread. Place two pieces of ham over cheese. Spread raspberry mayo over ham. Place 2 half slices of bacon over jam & mayo mixture. Place 1 half slice of sharp cheddar over bacon. Top with another slice of bread, buttered side up. Repeat stacking steps with remaining bread and ingredients.
Pre-heat a large non-stick skillet over medium low heat. Add 4 sandwiches at a time and grill 1-2 minutes or until golden brown, pressing down each sandwich with the back of a flat spatula. Flip sandwiches and press down again. Grill an additional 1-2 minutes or until golden brown. Transfer to a platter or plate and serve. Sprinkle with powdered sugar if desired just before serving.
---