Cheddar & Butternut Squash Soup with Apple & Bacon
Prep Time: 30 min | Cook Time: 30 min | Servings: 12 | Calories: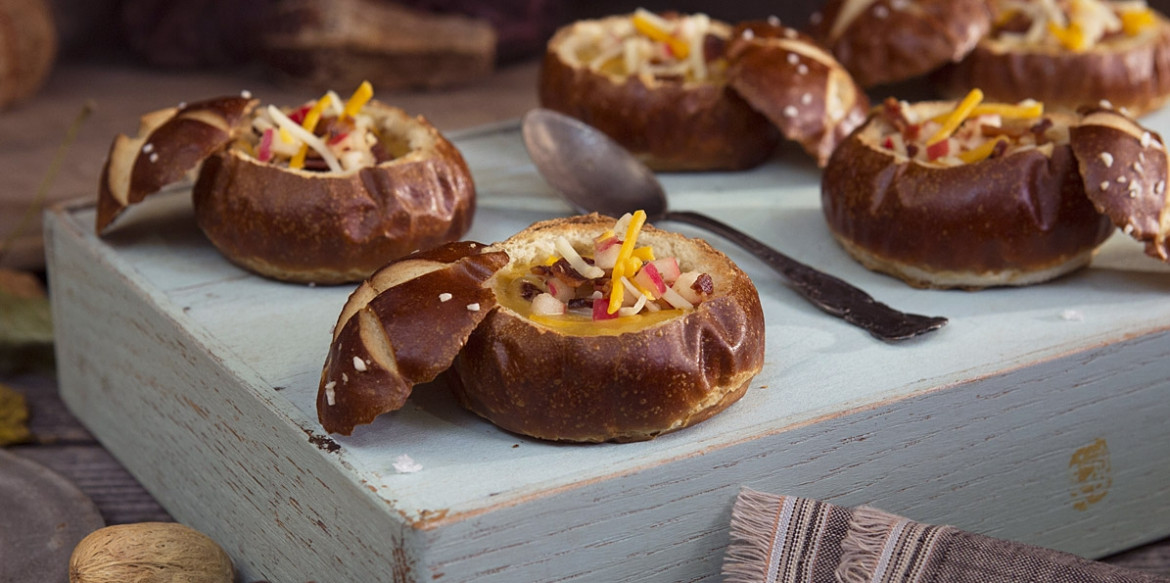 ---
Cheesy, blended butternut squash and Granny Smith apple soup served in pretzel roll bowls stars the robust flavor of Sargento® 4 State Cheddar. A sweet, savory garnish adds the perfect finishing touch to this elegantly fun lunch entrée.
Ingredients
2 Tbsp. unsalted butter
1 small onion, diced
1 Granny Smith apple, peeled and diced
1 cup fresh apple cider
3 cups butternut squash, cubed
2 cups chicken broth
¼ cup half & half
Salt and pepper to taste
12 pretzel mini rolls, tops removed and hollowed out
Garnish:
1/4 cup diced gala or honeycrisp apple
1/4 cup crumbled bacon
Directions
In a large saucepan, melt butter over medium low heat. Add onion and apple. Cook, stirring often, until golden brown, about 10 minutes. Add apple cider. Cook an additional 2-3 minutes or until reduced to a glaze.
Add squash and chicken broth. Cook covered for about 30 minutes or until squash is very tender.
Transfer soup in batches to blender and puree until smooth. Return to saucepan.
Stir in cream and cheese. Continue stirring until cheese has completely melted. Season to taste with salt and pepper.
To serve: in a medium size bowl, combine garnish ingredients. Pour hot soup into hollowed out pretzel rolls. Top each with a teaspoon of garnish mixture and serve.
---