Apple Pecan Sundae with Aged Cheddar Sauce
Prep Time: 5 MIN | Cook Time: 20 MIN | Servings: | Calories: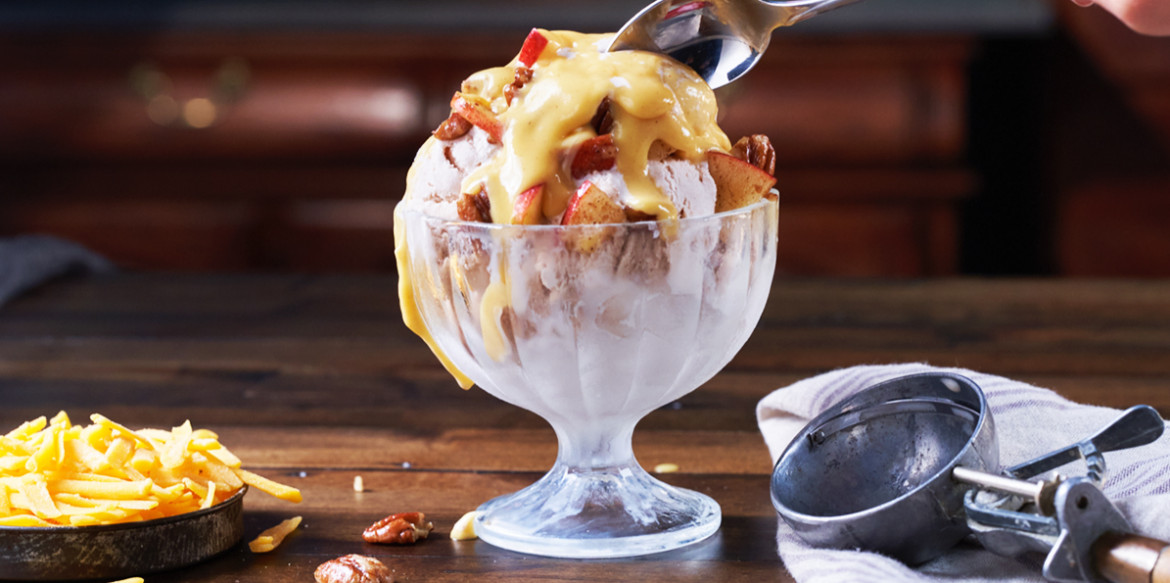 ---
This recipe shows off the versatility of apples and Sargento® Shredded Sharp Cheddar Cheese. This ice cream sundae is made with cinnamon ice cream, topped with buttered warm cinnamon apples, salted pecans and a savory sharp cheddar cheese sauce.
Ingredients
FOR CHEESE SAUCE:
1 Tbsp. Butter
2 Tbsp. Flour
1 cup Milk
1/8 tsp. Ground nutmeg
FOR APPLES & PECANS:
2 Tbsp. Butter, divided
1/2 cup Pecan halves, roasted and salted
1 med. Apple, cored and diced
2 Tbsp. Sugar
1/4 tsp. Ground cinnamon
1 qt. Cinnamon or churro flavored ice cream
Directions
Melt butter in a small saucepan over medium low heat. Stir in flour. Cook for 2 minutes or until mixture has a nutty smell. Slowly whisk in milk. Stir often until mixture thickens. Stir in nutmeg, then slowly stir in cheese. Cook until cheese has completely melted and sauce is smooth. Remove from heat, cover and let cool for 10 minutes while dishing up ice cream.
While cheese sauce is resting, prepare apples and pecans by melting ½ tablespoon of butter in a small skillet over medium heat. Add pecans and stir to coat. Cook, stirring pan often for 2 minutes. Transfer to a small bowl and set aside.
In the same pan, melt remaining butter over medium low heat. Stir in apples and cinnamon. Cook for 2-3 minutes or until sugar has melted and apples are warm.
To Serve: Scoop 1 cup of ice cream into a bowl. Spoon ¼ cup of warm apples into bowl over ice cream. Sprinkle 2 tablespoons of buttered pecans over apples. Spoon 2 tablespoons of warm cheese sauce over the top and serve.
---