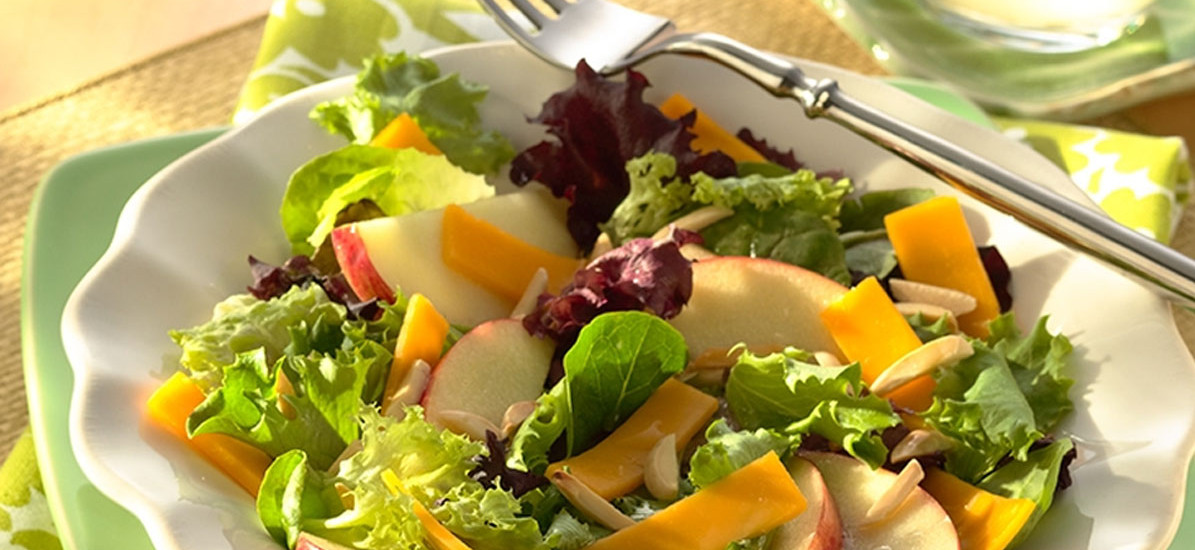 By Neva Cochran | December 2014
Happy, Healthful Holiday Eating
---
As winter holiday celebrations approach, we are overwhelmed with an array of delicious food at every turn – work, home, parties, luncheons, dinners and more. Food is a traditional part of holiday festivities, and no one wants to feel deprived. So how can you enjoy without overindulging? Try this 3-D approach.

1. Devour the best and leave the rest

Many foods are unique to the holidays, so savor those and leave the foods that you would normally eat year-round off your plate. For instance, enjoy sweet potatoes rather than mashed potatoes, a cheese ball instead of onion dip, or pumpkin pie in place of chocolate cake. If you are trying to save on calories without compromising on taste when preparing holiday dishes, substitute lower-fat ingredients like fat-free evaporated milk for cream in mashed potatoes, Sargento Shredded Reduced Fat Natural Cheese in a casserole, or a graham cracker crust for a pastry crust for pies.

2. Decrease portions

Rather than give up holiday treats, eat smaller portions and don't take second helpings. Use the Choose MyPlate approach by making half your plate fruits and vegetables, one quarter lean protein and one quarter grains, plus a serving of dairy on the side or included in one of the foods on your plate. Find creative ways to trim portion sizes without sacrificing taste, like using Sargento Ultra Thin Slices that are only 40-45 calories per slice with all the delicious flavor of natural cheese.

3. Deliver nutrition

Many traditional holiday foods are brimming with nutrients essential for good health. Turkey boasts high-quality protein, vitamin B6 and niacin; sweet potatoes supply fiber, potassium, and vitamins A and C; natural cheese – often used as an appetizer, recipe ingredient or a topping for veggies – provides high-quality protein and calcium; and dark green veggies like broccoli contain vitamins A, C and folate as well as fiber. By filling your plate with a variety of delicious and nutritious foods, you'll not only please your palate but also add to the healthfulness of your diet.

Sargento offers a wide range of delicious, natural cheeses that can make any holiday celebration exceptional. Try creating tasty and festive dishes using Sargento recipes, like the Cheddar Pimiento Cheese Ball, Sweet Potato Puree, Apple Cheddar Salad and Broccoli Casserole. They are sure to be holiday favorites for years to come!

---