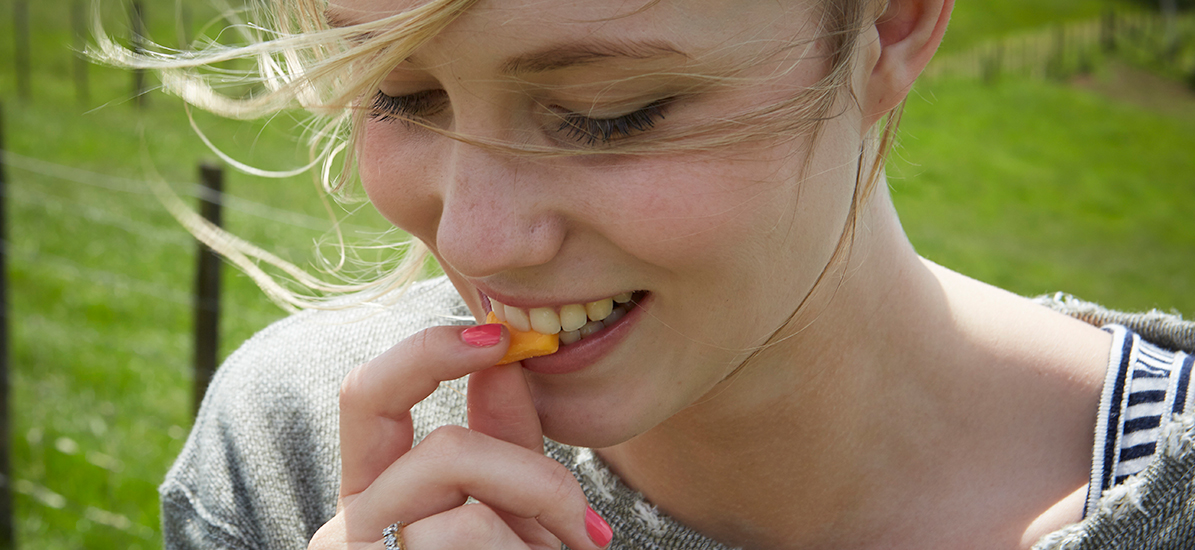 By Jackie Newgent and RDN | May 2015
Clever Ways to Get Calcium Throughout the Day
---
There is a lot you can do to keep your bones strong as you age, including eating a well-balanced diet with plenty of calcium and vitamin D, and regular exercise. Since May is National Osteoporosis Awareness and Prevention Month, now is the time to give your nutritious eating efforts a kick start.
Your diet can make a difference in keeping your bones strong. Three keys to an eating plan that can help protect your bones include choosing foods rich in calcium, getting adequate vitamin D, and obtaining plenty of nutrients overall, including sufficient protein.
In order to form improved habits, it's often best to focus on one change at a time. Since eating a diet rich in calcium is a top strategy for strong bones, try making this your primary focus. Aim to get this vital nutrient from food first. There are so many interesting ways to do so. Dairy foods such as low-fat and non-fat milk, yogurt and cheese are top sources of calcium in the U.S. diet. Beneficial plant sources of calcium include dark leafy greens, broccoli and beans.
Calcium for Every Time of Day
Give these tasty cuisine ideas a try for an eating repertoire designed to add calcium to meals and snacks. Each includes one or more foods providing at least 10% of the Daily Value (DV) for calcium! [2]
Breakfast
Try savory oatmeal. Prepare oatmeal with vegetable broth; stir in baby spinach or fresh herbs and sprinkle with shredded Swiss cheese.
Plan a plant-based breakfast. Scramble tofu along with fresh herbs instead of scrambling eggs from time to time.

1/2 cup firm tofu (prepared with calcium sulfate) = 25% DV calcium

Have salad for breakfast. Toss dark leafy greens with tomato, red onion, string cheese (cut into coins), olive oil and lemon juice, then top with a cooked egg.
Lunch
Savor a cheese pizza slice. And if you want a topping, choose broccoli for a little extra calcium boost.

1 slice cheese pizza = 20% DV calcium

Upgrade a PB&J sandwich. Fix an almond butter and fig jam sandwich on sprouted grain bread.

2 tablespoons almond butter = 11% DV calcium

Skip the chips. Enjoy a satisfying and simple white bean salad side by splashing cool beans with olive oil, vinegar, shallot, and fresh herbs of choice.

1/2 cup white beans = 10% DV calcium
Dinner
Transform mashed potatoes into a simple mashed potato soup. Stir in simmering fat-free milk and broth to desired consistency and garnish with minced scallions.

1 cup fat-free milk = 30% DV calcium

Get comfort and nutrition in every bite. For a delicious twist on the familiar, stir in a generous portion of steamed spinach into a healthful macaroni and cheese entrée, made with 100% whole grain elbow pasta.

1 cup macaroni and cheese = 16% DV calcium; 1/2 cup steamed spinach = 12% DV calcium

Fill half your plate with veggies that are good sources of calcium. Add worldly flair with Asian greens, like stir-fried bok choy.

1 cup cooked shredded bok choy = 16% DV calcium
Snacks
Plan to have on hand a convenient individual-sized snack. Pick this: Sargento Balanced Breaks™ Natural White Cheddar with Almonds and Cranberries! It's a great on-the-go snack under 200 calories with 7 grams of protein per serving.
Glam up yogurt. Top plain Greek yogurt with sliced oranges, pistachios, fresh mint, a few dark chocolate chips, and a drizzle of honey.

6 ounces nonfat Greek yogurt = 19% DV calcium

Do dip. Whip up a hummus made with edamame and plenty of tahini (sesame seed paste). Or select an elegant salmon pâté.

1 ounce tahini = 12% DV calcium; 1 cup prepared edamame = 10% DV calcium; 2 ounces canned salmon = 12% DV calcium
And remember this: Enjoying three daily servings of milk, yogurt, or cheese as part of an overall healthy diet can help families build strong bones!
Sources:
---