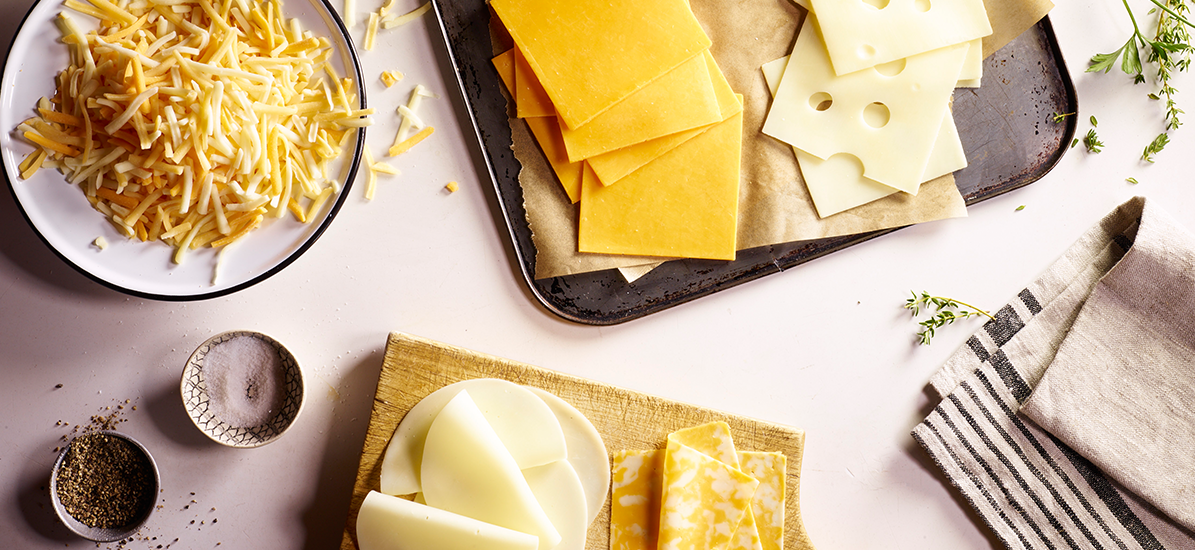 By Neva Cochran | June 2015
Celebrate Dairy Month with Cheesy Good Taste
---
June is National Dairy Month and the perfect time to celebrate the great taste and good nutrition of milk, yogurt and cheese.
Dairy foods provide an array of important nutrients essential for good health, and offer a wide range of choices that can be enjoyed by everyone at any time of day! The Dietary Guidelines for Americans recommends three daily servings of dairy foods as part of a healthy eating pattern.
One cup of milk or yogurt, 1 1/2 ounces of natural cheese or 1/3 cup shredded cheese each count as one serving. Surveys show that Americans consume about two servings of dairy foods per day on average, so adding just one more serving of dairy will help fill the gap!
Here's the lowdown on how natural cheese can play an important role in a healthful diet as a nutrient-rich dairy food choice.
Cheese contributes many essential nutrients to our diet — it's the No. 2 source of calcium and a valuable source of high-quality protein, phosphorus, vitamin A and zinc. Natural cheese is a nutritious dairy food that easily fits into most eating plans, including the Dietary Approaches to Stop Hypertension (DASH) diet, diabetic, Mediterranean, plant-based, vegetarian, gluten-free and low-lactose, among others.
Natural cheese can be an important source of calcium for individuals with lactose intolerance. Natural hard cheeses such as Cheddar, Colby, Monterey Jack and Swiss contain minimal amounts of lactose, because most of the lactose is removed when the curds are separated from the whey in the cheese-making process. Last but not least, natural cheese is a delicious and versatile dairy food that can be enjoyed at any mealtime and as a savory, satisfying snack. Here are a few ideas.
Breakfast: Stir shredded natural cheese into scrambled eggs or layer Sargento® Sliced Reduced Fat Medium Cheddar Cheese in a whole-wheat tortilla with eggs for Breakfast Quesadillas.
Lunch: Add a slice of natural cheese to a sandwich, or use Sargento® Shredded Reduced Fat 4 Cheese Italian in Italian Tuna Salad.
Dinner: Top veggies or a baked potato with shredded natural cheese or use Sargento® Shredded 4 Cheese Pizzeria to create a twist on a family favorite main dish, like Tuscan Chicken & Cheese Pizza.
Snacks: For a convenient and nutritious snack, try the new Sargento® Balanced Breaks™ that provide a combination of natural cheese, nuts and dried fruits for a delicious, all-in-one snack with 7 grams of protein and fewer than 200 calories. Or make your own Mega Party Mix with pretzels, peanuts, raisins, sesame sticks and Sargento® String Cheese.
---